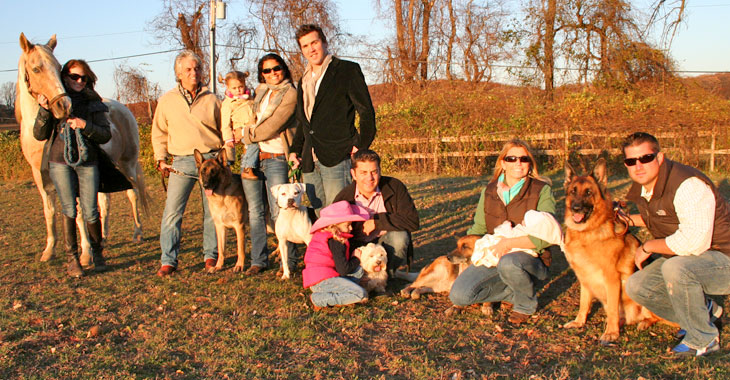 Palazzo Family 
Industry experts are saying that the pet care industry is "recession proof" and, as you may have noticed, pet resorts are popping up across the country. Though a burgeoning business, Purr'n Pooch President and CEO Dick Palazzo cautions pet owners of new companies with little or no experience in handling and caring for pets. Experience and expertise will be key to long-term success in this growing industry.
Curious about how Purr'n Pooch has stayed in business since 1970? All you have to do is hear from the key people who have contributed to our success. Here are the Palazzo Family's picks for trends in pet care and how they will be accommodating their clients' needs in 2013.
Pets Are Family
The biggest trends in pet care are really dictated by the underlying shift in how owners view their pets. Thirty years ago people certainly loved their pets, but they were just that, pets. As time has passed, the paradigm has shifted to people looking at their pets less like animals and more like family members.  The majority of pet owners want the absolute best for their pets, pampering included. At Purr'n Pooch we do our best to anticipate the needs and wants of our clients. Nothing says you love your pet like a 30-minute massage, strawberry bath and twilight walk. Mary Palazzo, Vice President
Aging Gracefully
Senior pet care is on the rise. As veterinary medicine has advanced and better nutrition and wellness products have been developed, people have become generally more willing to go the extra mile for their pets. We are seeing an increase in longevity as many of our dogs have been visiting us for boarding and daycare for more than ten years. This type of specialized care does present new challenges as the needs of each geriatric pet can vary greatly, but we do everything possible to provide the most comfortable and stress -free environment for them. Personalized care is the hallmark of our guest services for aging pets. It's also a service dear to my heart as I've cared for several of my own senior dogs throughout the years at Purr'n Pooch. Dick Palazzo, President & CEO
Natural Products & Relaxation
At Purr'n Pooch, we have certainly made a push to offer a wider array of all natural or organic pet supplies to our customers and guests. Many of our shampoos and conditioners are 100% all natural, plant based and free of chemical detergents. Stress is also a large health factor in humans as well as pets. We go to great lengths to provide a relaxing environment for the pets with classical spa music played throughout our facilities. We also provide a natural pathway to relaxation through our spa services, which include massage therapy, reiki and group activities such as doga (yoga with your dog). Betsy Palazzo Dudick
Doggie Daycare
Doggie daycare continues to be on the rise. Many families work long hours and don't want their dog(s) to be home alone. Some simply want their dog(s) to mingle, socialize and enjoy a good time. There are many reasons people bring their dogs to daycare, but the common thread among our clients is the love they share for their pets and their desire to do what's best for them.  Koren Palazzo Spadavecchia
All in all, pet care services are on the rise in 2013 and at Purr'n Pooch we're poised to continue to be the best option for pet owners visiting or living on the Jersey Shore. According to Embrace Pet Insurance, a member of the North American Pet Health Insurance Association, no time in history has seen such a wide and growing variety of products and services for pet parents and their pets.
Purr'n Pooch's diverse menu of services reflects the growing general consensus that pets are indeed a substantial part of the family now. But, you knew that already didn't you?