MANNERS + SKILLS + ATTITUDE
The dog training philosophy at Purr'n Pooch is to make training fun. Dogs learn if you maintain patience and train with compassion and respect. This atmosphere of training builds confidence and makes it fun for you both. It promotes a bond and a lifelong friendship.
Our Certified Pet and Dog Trainers (CPDT) specialize in household manners, everyday commands and prepares your dog to obey instructions at home, in public and around other dogs. Our animal behavior training uses a reward-based curriculum. Purr'n Pooch enjoys helping your pooch learn and grow!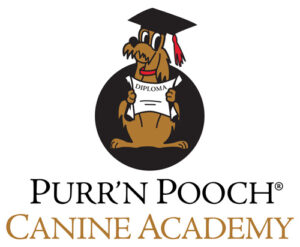 Purr'n Pooch offers a variety of instructional programs for canines.  These include private and group classes and boarding school at the Academy. Classes are scheduled throughout the year. Please call for the latest class calendar or to schedule your private lesson.
(10 weeks to 5 months)
Puppy Basics is an introductory class. It covers potty training, nutrition, bite inhibition, and basic obedience. This six week class will also address walking on leash, sit, down, stay and come.
(5 months & older)
This six week class is for the adolescent or adult dog that needs "basic training". The manners taught include sit, down, stay, come, heel, leave/drop and how to politely greet strangers.
A continuation of Mind Your Manners I, II addresses unwanted habits like jumping, mouthing and nipping while reinforcing basics. This six week class strengthens your dogs behavior to provide faster and more consistent responses.
This six-week program takes your dog on the road to local attractions where proactive training is implemented to help overcome fear and anxiety in unfamiliar circumstances.
One-on-one consultations are available to discuss specific problems.
Purr'n Pooch, Tinton Falls 732-842-4949
Purr'n Pooch, Wall Township 732-528-8100
Training must be FUN in order for your dog to learn.
Training is not hard; it just takes time, patience, consistency and persistence.
Training is not a spectator sport. You must participate to achieve.
Training is a lifelong process. If you stop practicing with your pet , he or she will forget.
Training should be interesting. Continue to teach new tricks, play new games and practice commands in new places.
The Purr'n Pooch Pet Shield is a tool for a safe approach to agitated pets, developed by Purr'n Pooch's President, Dick Palazzo. It's soft, gentle, and lightweight design keeps everyone safe. It is a protector, a separator, a director and a leader. It can stop unruly, aggressive and agitated pets, protecting the people around them as well as the pets themselves. The Purr'n Pooch Pet Shield is used in all our playgrounds for control of safe play.
DEMONSTRATING THE PURR'N POOCH PET SHIELD