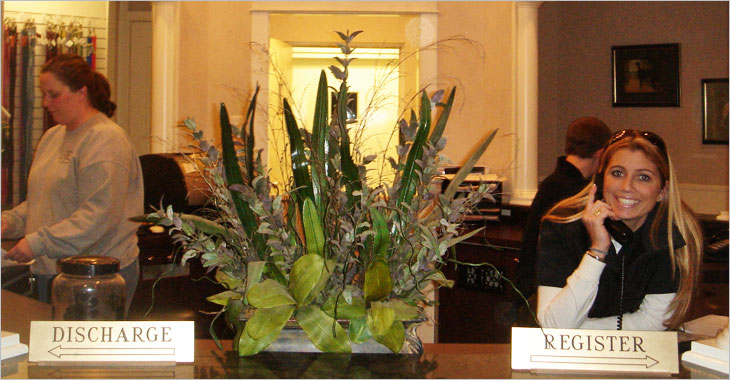 ABOUT
Looking for a secure home-away-from-home to leave your best friend when traveling on business or vacation?

On the search for a safe, stimulating environment to exercise and entertain your pet? Need a dependable, patient training team to lend a paw?
Or, are you trying to track down a seasoned spa or grooming professional to pamper your dog or cat?
Well, count on Purr'n Pooch Pet Resort's knowledgeable, caring staff to provide an extraordinary experience for your dog or cat. More than 100 veterinarians from across Monmouth and Ocean County, New Jersey recommend and trust in Purr'n Pooch as their top choice for boarding pets. For over 40 years we have cared for dogs, cats and exotics.
We invite you to tour our two family-owned and operated locations in Tinton Falls and Wall, New Jersey. Since 1970, more than 500,000 clients from New York, New Jersey and Pennsylvania have enjoyed our warm welcome, world-class pet resorts and top-notch amenities. It's no wonder we lead the pack among pet care professionals.
We boast experienced pet care technicians, pet nutrition and animal behavior training experts, pet sitters, and dog and cat groomers and spa professionals. Many of our employees are certified in Pet First Aid and CPR, and many of our pet care professionals have been with Purr'n Pooch for twenty years or longer.
We care for your dog or cat with respect and compassion, providing your best friend with the attention he or she deserves and you can count on.
Purr'n Pooch is STAFFED 24-HOURS a day for your peace of mind and your pet's safety and comfort. Our clients enjoy constant care throughout their stay from tummy rubs to twilight walks.
Why trust in us? 40+ years family owned and operated by the Palazzo Family.
Our modern resorts are staffed 24-hours a day.
Our luxury accommodations were specifically designed and built for the lodging, recreation and training of pets.
State of the art ventilation
Our climate controlled environments, include state-of-the-art ventilation and air purification systems.
Our staff monitor and protect your pet with state-of-the art security systems.
Many of our staff are certified in Pet First Aid and CPR.
Our award-winning reputation attracts the very best technicians, trainers, spa professionals and groomers.
Paws down, Purr'n Pooch offers some of the country's most exciting amenities, events and services:
Behavioral and health workshops attract the nation's leading pet experts.
Private dog suites boast leather sofas, televisions, music and skylights.
Custom designed 1,000 square foot catteries offer private condos, televisions, perches and multiple levels for play, climbing and napping.
Climate controlled environments and 100% recycled fresh air filtration systems offer health benefits.
Retail boutiques offer organic and natural treats and pet accessories for clients on the go.
Natural stone play areas with fresh water waterfalls and pools for splashing and swimming.
Playgrounds and agility courses with antimicrobial turf for safe, clean play.
Activities and games that focus on healthy play, learning, weight-loss and socialization.
Robust calendar of events, activities and parties for pets.
SERVICES
Pet Boarding and Lodging
Doggie Daycare
Cat Daycare
Group & Private Dog Training
Health & Fitness
DOGA (Dog Yoga)
Playtime
Private Pet Parties
Dog Grooming & Spa
Cat Grooming & Spa
Cattery with Natural Rock Walls, Waterfalls and Cat Houses
Transportation
Pet Behavior Modification
Bereavement Counseling
Nutritional Counseling
Boutique with Pet Supplies
Swim Time
Educational Seminars
Grooming School
Reiki
Specialized Geriatric Care for Senior Dogs and Cats
Weddings: Training for the Aisle, Care/Handling and Private limo Transportation
Estate Planning
Pet Sitting
Sports & Recreational Programs with Your Pet
Speaking Engagements & Presentations