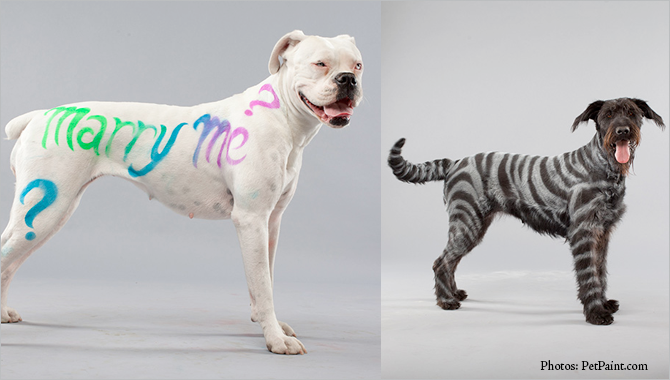 If you have a dog or cat, you most likely visit the groomer regularly for a shampoo, cut, dry and perhaps a nail trim. So how do you add a bit of fun and personalize your salon appointment? It's simple; Purr'n Pooch's professional stylists offer our clients a touch of style with Creative Grooming. The technique is a unique way to let you and your pet's personality shine through with the art of design, dye and cut.
Today many pet owners are choosing to express their dog's "artistic side". You may have already seen those eye-popping images of dogs disguised in tiger stripes, panda bear masks, and bursts of brightly colored flowers on Facebook. These outrageous groomings were created by artists from across the globe who use dogs as their canvases and their work has gone viral across the Internet. Creative Grooming has become so popular that a quarterly magazine published by the National Association of Professional Creative Groomers, LLC is devoted to the industry. Recently, there was even a Creative Grooming competition with the winner taking home $2,500 at the 25th Annual Groom Expo in Hershey, PA where over 4,000 groomers and dog lovers attended.
Your average pet owner may not visit Purr'n Pooch for one of these highly stylized groomings but in recent years our clients have been requesting simple touches of creativity to commemorate the holidays, sporting events, or even to just add a bit of pizazz to their grooming experience.
Creative Grooming is made by shaving a character or scenic background into a dog's coat, and often these works of art are enhanced with safe, washable colorful dyes. We recommend starting out with a small pet tattoo, as these temporary designs wash out with one to three baths, depending on the size and colors used. The process will get your dog comfortable with the Creative Grooming technique. A consultation is required prior to your appointment to make sure that your pet has a healthy coat and skin before starting.Halloween is fast approaching and we anticipate a busy season of Creative Grooming appointments. Popular tattoos include bats, pumpkins, ghosts and witches.
To schedule your Creative Grooming consultation, contact Purr'n Pooch Pet Resorts at (732) 842-4949 in Tinton Falls or (732) 528-8100 in Wall.