With Halloween quickly approaching the safety of your children is top of mind. But you should also be aware of the dangers to your other babies as well — the pets. Your family may plan to bring the pups along for some Trick or Treating fun and include them in your howling festivities so you should be mindful of Halloween hazards. Adults and children alike should know the dangers that costumes, noise, candy and decorations pose to our pets.
The Costume
If your dog or cat doesn't seem to mind dressing up there are plenty of costumes available for purchase and made specifically for pets. From the scariest of ghouls to the cutest fairy princesses, you'll find the costume that's just the right fit for your pet's personality. Some of our favorites over the years have included a pirate, pumpkin, devil, sailor, Princess Leia, and even Huge Hefner. Our Halloween doggie daycare parties are always a blast with a costume contest and games like bob for bones and chase the ghost.
How do you tell if a costume is right for your pet? You can tell if your dog is uncomfortable in his costume when he exhibits certain uncharacteristic behaviors like excessive panting, whining, and cowering. Basically, if your dog acts strange and looks uncomfortable, you'll want to skip the costume and maybe try sporting something else like creative grooming tattoos or festive fall sweaters, leashes, collars and bows. Purr'n Pooch's groomers and retail staff can help you to choose the right tattoo design and Halloween accessories for your pet.
And, as far as your cat goes, you'll know right away if he prefers wearing costumes or not. You may also have the scratch to prove it!
If you're ambitious and decide to create your own pet costume, avoid using anything that is toxic or hazardous to your friend's health. Many paints and glues have harsh chemicals that could irritate a pet's skin, eyes and nose.
Behavior & Identification
If you take your dog out with you to Trick or Treat around the neighborhood, be sure to keep him on leash. If your pet is shy or anxious around people and new experiences, it's probably best to have him spend time in a quiet space at home or bring him to doggie daycare with friends at Purr'n Pooch for the day. Know his personality and tolerance level before participating in activities that would bring on unwanted behavior such as jumping and barking.
If your scaredy cat or dog is overwhelmed by the frightful faces, costumes, and doorbell ringing, watch him carefully for a sneaky getaway during the flurry of Halloween activity. Before your pet gets spooked and runs away, take precautions to ensure his safe return home by always having him wear ID tags with all of your contact information. Microchips are also great and should your dog lose his tags and be taken to a local shelter or veterinary office and easily scanned for identification.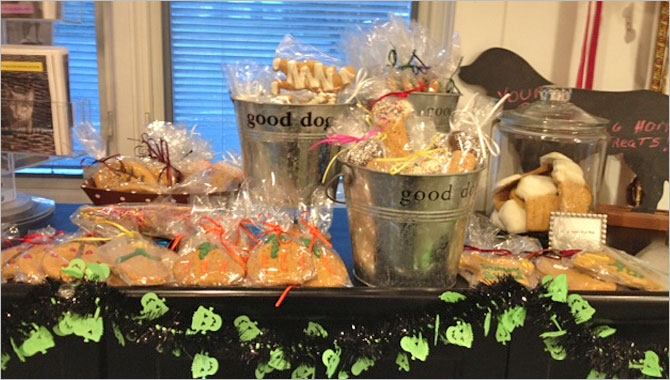 Treats & Halloween Decorations
The ASPCA's Animal Control Center experiences a 39% increase in calls involving poisoning from candy exposure during Halloween. The calls are often cases that could have been avoided if the pet owner was aware of the dangers of Halloween candy and decorations.
Most dog owners know about the hazards of  chocolate and pets, but there is another lesser known and potentially fatal toxin in candy, gum and baked goods called xylitol.  This natural alternative to sugar can send dogs into seizures with just a tiny amount. The actual candy isn't the only threat, its wrappers can be just as enticing and deadly. Cats love the shiny crinkly wrappers for play, but when ingested the aluminum foil or cellophane can cause intestinal blockages that could lead to death if untreated.
Your dog could also be attracted to your large decorative jack-o'-lanterns on display in your house.  This could mean disaster for your family if the lantern is lit by a candle's flame and knocked over, causing a house fire or burning your pet. Instead, protect curious paws and your house with LED candles that will not pose a threat to your family.
For the pups in the neighborhood that will be Trick or Treating with their owners, don't forget to have treats available to handout. And if you're looking to surprise your pup with an extra special Halloween treat, Fat Murray's peanut butter mummies and pumpkins are available for $2.25 each at Purr'n Pooch's retail boutiques in Wall and Tinton Falls, NJ.
Enter the Purr'n Pooch Pet Halloween Photo Costume Contest
Now that we covered the dangers, let's have a safe, howling good time! Join Purr'n Pooch for a doggie daycare Halloween Party on Thursday, October 31 from 7 a.m. to 7 p.m. The winner of our costume party at daycare will win a hydrotherapy bath. We are also hosting a photo contest on Facebook. Post your pet's pic on our
Facebook
wall and enter to win. The pet picture with the most likes by Nov. 15 at 10 p.m. wins a bath!
Have questions about our doggie daycare packages, call Purr'n Pooch Pet Resorts in Tinton Falls at (732) 842-4949 or Wall at (732) 528-8100.