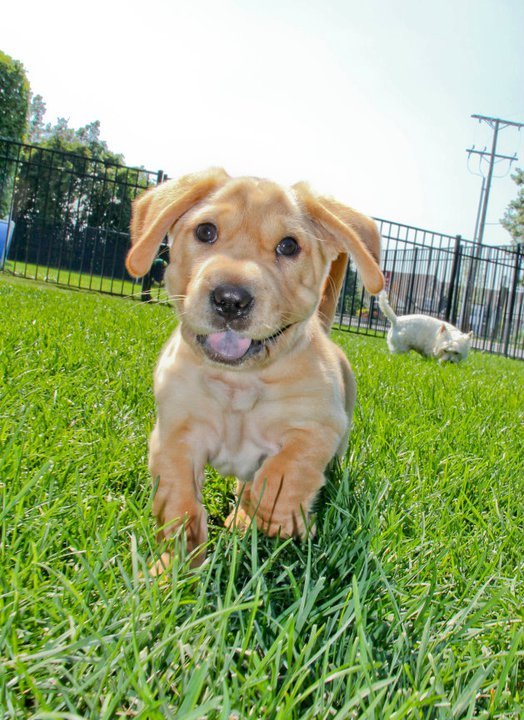 Spring has sprung! The flowers are blooming and the weather is getting warmer. It's the perfect season to enjoy time outside with your dog.
Is your dog's behavior holding you back from enjoying the great outdoors? Tired of your baby pulling you around the park on the leash? Is he jumping for those burgers at the family barbecue? Is she having trouble listening to your basic commands like sit or stay? If any of these dilemmas are holding you back from enjoying a special day out-and-about with your best friend, we invite you and your pet to join us for training classes at Purr'n Pooch.
Spring is an ideal time to join Purr'n Pooch's Trainer Iuliana Gedo, dip.CBST for her 6-week session of private and group classes for puppies and adolescents. A well-behaved, happy dog will enjoy an exciting summer of fun in the sun with family and friends!
Puppy Basics Class Starts Thursday, May 10th, 7:00 p.m.
(Puppies 10 Weeks – 5 Months)
Puppy Basics covers potty training, nutrition, bite inhibition and basic obedience, including walking nicely on leash, sit, down, stay, come and leave it/drop it.
Basic 1 Class Starts Wednesday, May 9th, 7:00 p.m.
(Dogs 6 Months & Older)
For the adolescent or adult dog that needs 'basic training'. Our professional trainers will teach you how to teach your dog sit, down, stay (duration & distance), come, walking nicely on leash, leave it / drop it, and how to politely greet strangers. We'll also show you how to address unwanted habits like jumping, mouthing, nipping, barking incessantly and becoming overly distracted in the presence of other dogs.
Our Certified Pet and Dog Trainers (CPDT) specialize in household manners, everyday commands and prepare your dog to obey instructions at home, in public and around other dogs. Our animal behavior training uses a reward-based curriculum that's based on positive reinforcement. Best of all, basic dog training with Purr'n Pooch is fun because we enjoy helping your pooch learn and grow!
Private & Group Classes
Boarding School
Camp
Special Needs Programs
Behavioral Consultations & Modification
Contact Purr'n Pooch at 732-842-4949 or info@purrnpooch.com for information on rates and private or group training classes. Classes are help in Purr'n Pooch's Training Hall at 80 West Gilbert Street, Tinton Falls, NJ.
About Purr'n Pooch Dog Trainer Iuliana Gedo, dip.CBST
Iuliana is a graduate of the Animal Behavior College's Dog Training Program and received her Diploma of Canine Behavior Science and Technology at the Companion Animal Sciences Institute. She has been a partner in the prestigious Community Training Program of Best Friends Animal Society since January of 2010. She comes to Purr'n Pooch from the Monmouth County SPCA, where she worked as a trainer in the Behavior Department, assessing dogs, designing and implementing behavior change protocols and creating enrichment programs to enhance the experiences of shelter dogs. She also trained staff and volunteers on basic dog handling and safety and trained high-level volunteers to participate in advanced behavior modification work.
Training Tips
Training must be FUN in order for your dog to learn.
Training is not hard; it just takes time, patience, consistency and persistence.
Training is not a spectator sport. You must participate to achieve.
Training is a lifelong process. If you stop practicing with your pet, he or she will forget. Teach new tricks, play new games and practice commands in new places. Keep training interesting for both you and your dog's sake.
"Understanding your dog and knowing how to control him, develop his potentials, and resolve behavior problems, emotional conflicts and frustrations are no less essential than love and respect." Michael W. Fox