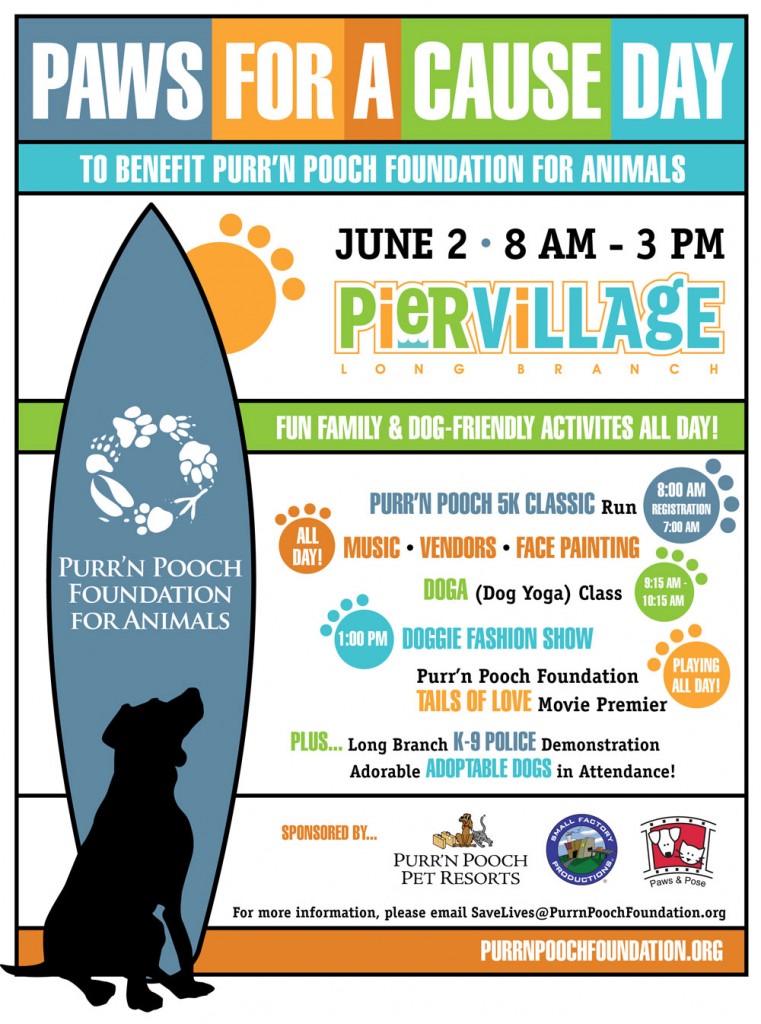 Second Annual PAWS FOR A CAUSE DAY To Benefit Purr'n Pooch Foundation for Animals
June 2, 2012 • 8:00 am – 3:00 pm, Pier Village • Long Branch, NJ
Fun family & dog-friendly activities all day!
8:00 am Purr'n Pooch 5K Classic Run.
Register 7:00 am and at RaceForum.com/Paws
All Day! Music • Vendors • Face Painting
9:15 am – 10:15 am Doga (Dog Yoga) Class with Purr'n Pooch Pet Resorts
1:00 pm Doggie Fashion Show
Playing All Day! Purr'n Pooch Foundation Tails of Love Movie Premier
Plus… Long Branch K-9 Police Demonstration
Adorable Adoptable Dogs in Attendance
Sponsored by:
Purr'n Pooch Pet Resorts
Small Factory Productions
Paws & Pose Pet Boutique
For more information, please email SaveLives@PurrnPoochFoundation.org
About the Purr'n Pooch Foundation for Animals
Too often we hear about the millions of unwanted animals killed in shelters across America each year or read about unfathomable cruelty inflicted on defenseless creatures. Fortunately, there are selfless, passionate individuals quietly saving lives – hands-on, one animal at a time.
With pure hearts, boundless energy and few resources, they work diligently day in and day out, to rescue animals in distress, heal their wounds, restore their confidence, and teach them to trust and love again.
The Purr'n Pooch Foundation is committed to helping these unsung heroes pursue their worthy missions. Regardless of species served, the Foundation supports those deserving organizations who do so much with so little.