Save the dates for events and promotions
The Palazzo family and staff of Purr'n Pooch wishes everyone a happy, healthy, and safe holiday season.

EVENTS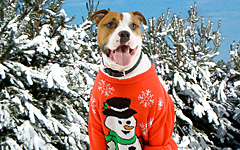 DECEMBER UGLY SWEATER BIRTHDAY PARTIES
Tuesday, December 10 ~ Tinton Falls
Thursday, December 12 ~ Wall Township
Party games and pictures will be taken on the playground. Come help us celebrate our daycare friends born in the month of December. The pet with the most original ugly sweater will win a free day of daycare. Photos will be posted on Facebook the next day.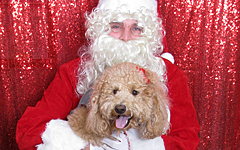 WINTER WONDERLAND
Saturday, December 14 ~ 2pm-5pm
Tinton Falls
Come have your pictures taken with Santa for $10 and enjoy light refreshments. Our Trainer Ellie and Swim Instructor Jamie will be on hand to answer any questions you may have about our winter programs. Also, a representative from the Blood Bank at Red Bank Veterinarian Hospital will be in attendance to give information about having your dog become a blood donor. Don't forget your donation for the Purr'n Pooch Foundation for Animals Annual Pet Supply Drive to help local animals in need.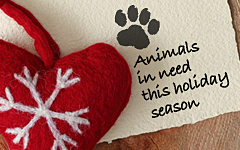 HOLIDAY PET FOOD & SUPPLY DRIVE
Friday, November 1 – Monday, December 16
Tinton Falls & Wall Township Resorts
When dropping off your pet this month please remember to bring a donation for our food and supply drive. Items requested include cleaning supplies, laundry detergent, dog and cat toys, dog and cat treats, hard bones for chewing puppies, pill pockets, blankets, and towels. All donations will be handed out to local rescues and shelters to help animals in need this holiday season.
PROMOTIONS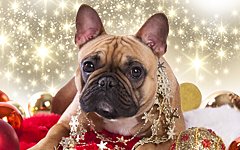 SPA SPECIAL: GLITTER GLAM
Indulge your pet with luxurious honey almond shampoo, sugar scrub, sparkle finish spray, and teeth brushing. This pawsome shampoo will help condition coat and add shimmer and shine. Cost is $25 plus price of bath or grooming.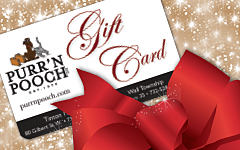 RESORT SPOTLIGHT: GIFT CARDS
What is on every pet's Holiday Wish List? A gift card from Purr'n Pooch Pet Resorts of course.



PAWSITIVELY NOTEWORTHY DATES


December ~ National Cat Lover's Month
December 22-30 ~ Hannukkah

December 2 ~ National Mutt Day
December 4 ~ World Wildlife Conservation Day
December 13 ~ National Day of the Horse
December 21 ~ First Day of Winter
December 24 ~ Christmas Eve (Office hours: 7am-3pm)
December 25 ~ Merry Christmas (Office closed)
December 31 ~ Happy New Year
January 1 ~ Happy New Year (Office hours: 2pm-6pm)