Save the dates for events and promotions
Smell the pumpkin spice! Fall is officially here. Purr'n Pooch Pet Resorts will be hosting a Pet First Aid & CPR class in honor of National Animal Safety and Protection Month. This class is very informative and can benefit any pet owner or pet professional. We will have two parties in October for our daycare guests: our monthly birthday party and our annual Halloween costume party.

EVENTS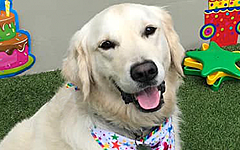 OCTOBER BIRTHDAY PARTIES
Tuesday, October 8 ~ Tinton Falls
Thursday, October 10 ~ Wall Township
Come help us celebrate our daycare friends born in the month of October. Party games and pictures will be taken on the playground. Photos will be posted on Facebook the next day.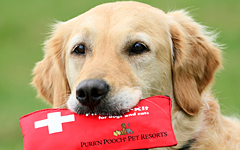 ASHI PET FIRST AID & CPR CLASS
Saturday October 19 ~ 11:00 am to 1:30 pm
Tinton Falls Resort
The Pet First Aid & Pet CPR course is a certification course through the American Safety & Health Institute (ASHI). The course runs about 2 ½ hours and consists of training in rescue breathing, pulse check and chest compressions. We cover emergencies such as bleeding, shock, fractures, heat and cold emergencies, poisoning, drowning and much more. Students will receive a student manual and basic first aid training kit.
Enroll now >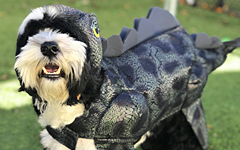 HALLOWEEN COSTUME PARTIES
Thursday, October 31
Tinton Falls and Wall Township
Bring your pet's Halloween costume to daycare. We will dress them up for the party and have a scary good time. The pet with the most creative costume will win a free day of daycare.
PROMOTIONS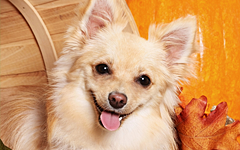 SPA SPECIAL: PUMPKIN SPICE
Our conditioning Pumpkin Spice Shampoo gently cuts through dirt without stripping the natural oils and infusing your pet's coat with aloe and sunflower oil. The spa special includes shampoo, pumpkin spice spritz, and teeth brushing. Cost is $18 plus price of bath or grooming.

PAWSITIVELY NOTEWORTHY DATES


October ~ Adopt a Dog Month
October ~ National Pet Wellness Month
October ~ Pit Bull Awareness Month
October ~ National Animal Safety & Protection Month
October ~ National Service Dog Month
October 1-7 ~ National Walk Your Dog Week
October 1 ~ National Fire Pup Day
October 4 ~ World Animal Day
October 11 ~ National Pet Obesity Awareness Day
October 16 ~ National Feral Cat Day
October 24 ~ National Pit Bull Appreciation Day
October 21 ~ Reptile Awareness Day
October 29 ~ National Cat Day
October 31 ~ Happy Halloween