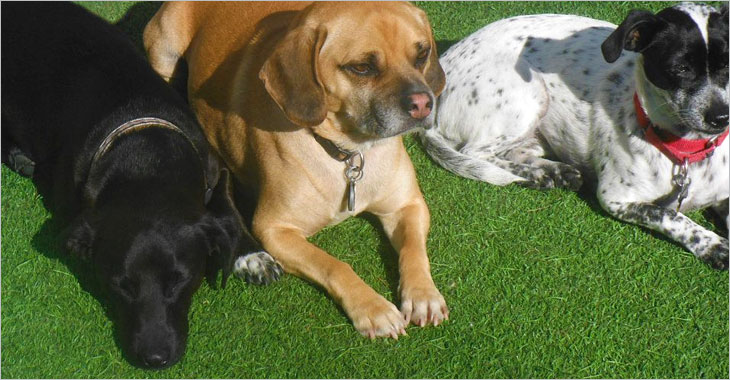 At Purr'n Pooch Pet Resorts, our clients inspire us to outfit our facilities with the best pet care products on the market. By investing in innovative materials like the environmentally friendly K9Grass from ForeverLawn, Inc., we ensure good clean fun for visiting pets, as well as pet owners who would prefer more time cuddling with their best friends than wrestling with them in the tub. Digging in the dirt, jumping in muddy puddles and roaming through the grass are all favorite pup pastimes, but at Purr'n Pooch we make sure that our pets still enjoy themselves without the fuss of daily baths or potential health hazards like fleas, ticks and bacteria that may lurk in grass and dirt.
Our microbial turf is specifically designed for dogs and has been installed at both our Wall and Tinton Falls locations. Its flow-through backing, short dense blade structure and antimicrobial protection give pets a cleaner, safer environment to play. The fresh smell on our playgrounds always amazes visitors, and when caring for dogs daily, quick and easy playground cleanup is essential to a healthy and enjoyable environment. K9Grass' antimicrobial protection also makes it possible to avoid using chemicals, pesticides and insecticides to keep our surfaces free from insects and bacteria.
Our playgrounds are resilient enough to withstand the wear and tear caused by our energetic dogs, as well as New Jersey's seasonal weather changes. Its knitted backing provides for instantaneous and immediate drainage of the turf, so any liquid will wash away automatically. K9Grass is tough and durable, but it also has a cushioned, soft surface that gives our guests, both big and small, a comfortable experience while they enjoy playing with friends winter, spring, summer or fall.
As one of the nation's first pet care facilities, Purr'n Pooch and the Palazzo Family continue to invest in products that give pet owners piece of mind and provide a safe, fun environment for  visiting dogs and cats.
"We continue to design and outfit Purr'n Pooch Pet Care Resorts with the best products available on the market. Since 1970, I have always done what's best for our pets and clients, and it's exciting to see the technologies and advances in pet care available to us today,"  said Dick Palazzo, President and CEO, Purr'n Pooch Pet Resorts. "Investing in our visiting pets' safety and happiness is at the heart of what we do and why we continue to love our jobs and care for families and their dogs and cats for generations."
Stay tuned for details as this summer Purr'n Pooch will celebrate its exciting renovation in Wall Township, NJ. Our luxury resort will feature superior cat and dog suites; indoor aquatic pool for therapy, weight loss and enjoyment; grooming and spa rooms; and a jungle playground for our feline friends.
To tour the facility, media are invited to contact Jennifer Smiga of inBLOOM Communications at 201-892-9403 or jen@inbloomcomm.com.