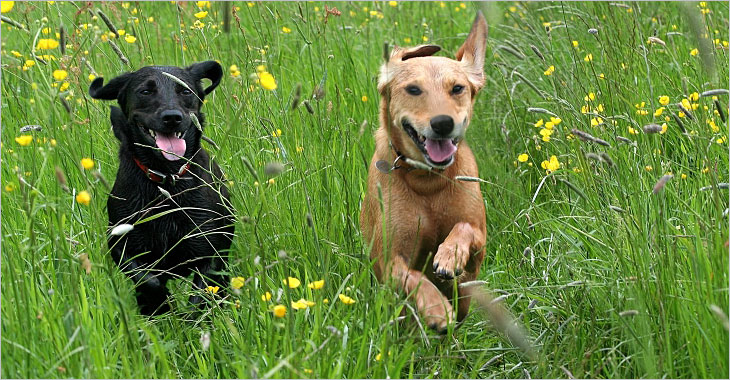 Spring has arrived and with warm spring weather comes more than just flowers blooming and allergies. It's also flea and tick season, and this year in particular is going to be a problem for many pets because of the unusual weather we've experienced across the NY/NJ region. Ticks usually begin to appear in April and continue to hang around as late as November. Flea season is mostly influenced by weather conditions such as temperature and humidity. The Weather Channel has created a tool that allows you to see when fleas are most active in your area. In parts of the northeastern region of the United States, including New Jersey, flea activity will occur from April through December. Take necessary precautions to protect your pets while on-the-go and at home.
The first step to ensure a pest-free season is to pay attention to your yard. Fleas and ticks spend their time in long grass and shady outdoor spots; so keep your grass cut short by mowing regularly and removing all weeds. Also be sure to clean up dead leaf piles with a rake or leaf blower. Ticks like to hang out in leaf piles, so the last thing you want is your furry friend jumping around in leaves. If you use mulch in your yard, choose one that deters insects such as cedar, and cover your garbage at all times to keep common tick host like rodents and other critters safely away.
Another way to protect your pets is to treat them with flea and tick products. There are many on the market, so make sure you choose the best ones for your pet.  At Purr'n Pooch, we carry all-natural products that will keep your pets pest-free. Here are just a few of our product picks, available at Purr'n Pooch's Pet Boutiques, just in time for the season:
Alzoo Natural Repellant
An all-natural plant based flea and tick repellent. The product is applied from a tube onto the shoulder blades and will spread throughout the whole body.
K9 Granola Factory Flea & Tick Chewables
100% organic treatment and a natural way to rid your dog of pests, while avoiding the use of chemicals. It creates a light body scent that will keep fleas and ticks away.
Happytails Flea the Scene Spray
A 3-in-1 spray that contains a full spectrum of effective, all natural ingredients. A quick spritz before you leave the house will ensure that your best friend is armed against all outdoor enemies.
We also offer all natural flea and tick bathing for dogs and cats at our grooming and spa salon. Contact us in Wall or Tinton Falls to schedule and appointment. Enjoy a safe and fun season outdoors with your best friend!