SAVE THE DATES FOR EVENTS AND PROMOTIONS
We have a busy month full of love with Valentine themed birthday parties and photo contests. Hopefully the weather cooperates and we don't get too much snow. Remember both resorts have built in generators and are staffed 24 hours per day. Check out everything going on in February at Purr'n Pooch Pet Resorts.
EVENTS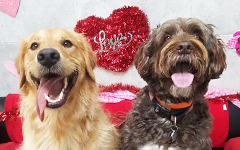 FEBRUARY BIRTHDAY PARTIES
Tuesday, February 11 ~ Tinton Falls
Thursday, February 13 ~ Wall Township
Love is the main focus of our Valentine's themed birthday parties. Let's celebrate our daycare friends born in the month of February. Photos will be posted on Facebook the next day.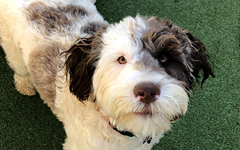 LOVE YOUR PET PHOTO CONTEST
Thursday, February 20
Help us celebrate National Love your Pet day on February 20 by entering our photo contest. Pictures of your pets can be submitted to info@purrnpooch.com from Friday, February 14 to Wednesday, February 19. We will post all the entries on Facebook on Thursday, February 20. The picture with the most likes/loves at 11:59 p.m. will win one free night of boarding.

PROMOTIONS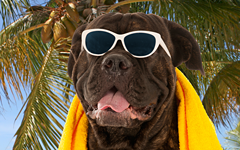 SPA SPECIAL: RETREAT INTO PARADISE
Our February spa package will have you dreaming of a warm paradise vacation. The package includes retreat hypoallergenic shampoo that helps to revitalize the coat, tropical conditioner to add shine and teeth brushing. Cost is $18 plus price of bath or grooming.



RESORT SPOTLIGHT: AQUATICS
Aquatic Exercise is offered all year in our indoor spa pool located in our Wall Township location. If you would like your pet to receive some added exercise during the winter months or if he/she needs to learn to swim before the warmer weather check out our Aquatics program.
Learn more >

PAWSITIVELY NOTEWORTHY DATES


February ~ National Cat Health Month
February ~ Pet Dental Health Month
February ~ Spay & Neuter Awareness Month
February ~ Dog Training Education Month
February ~ Adopted a Rescued Rabbit Month
February 20 ~ Love Your Pet Day
February 22 ~ Walking the Dog Day
February 23 ~ International Dog Biscuit Day
February 27 ~ World Spay Day