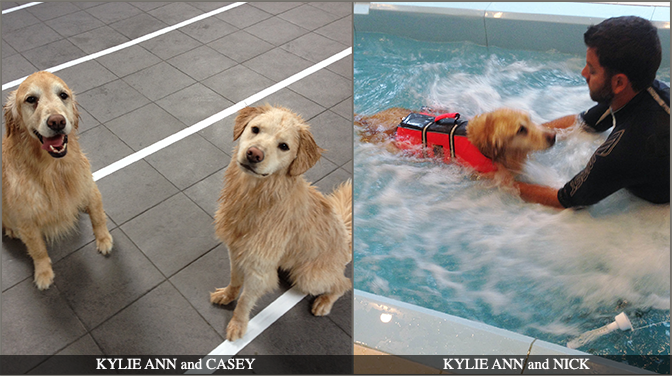 As humans, when we injure ourselves we are able to go to therapy to help strengthen our muscles and get back to our healthiest self. But what happens when a dog needs to heal after an injury or surgery?
At Purr'n Pooch, the answer to getting dogs back to their frolicking selves is often aquatic exercise sessions in our indoor pool located in Wall, NJ. Experienced and patient pet care technicians work with dogs, teaching them to move and play gently in the warm water. Aquatic exercise is great for dogs who need hydro sessions after an injury. The spa waters strengthen and gently condition muscles, preventing further injury and lessening pain.
Kylie Ann, a Golden Retriever, was just six years old when she ruptured her Cranial Cruciate Ligament (CCL) and meniscus in her right knee and needed surgery. Her recovery was slow and restrictive, leading to weight and muscle mass loss and weakness. Kylie Ann was unable to play with her younger doggie brother, Casey, and became depressed.
This worried her owner, Kristin, but what also concerned her was the likelihood of the same injury happening to her other knee.
"After talking it over with her veterinarian, I decided to try Purr'n Pooch's water sessions in order to help her physical rehabilitation after the surgery and mental well-being after being restricted and confined for weeks," said Kristin. "I thought the general physical fitness and conditioning would help prevent the possibility of her rupturing the opposite knee in the future."
Kylie Ann started work with Nick, aquatic director at Purr'n Pooch's Wall location, in June 2014. Kylie had never been a big fan of the water and was fearful of new situations and new people, but she already knew and trusted Nick. Turns out, it was a perfect fit.
Kylie had early and continued success with her aquatic exercise sessions at Purr'n Pooch, which Kristin attributes to the type of personalized services offered.
"The sessions are one-on-one, ensuring individualized attention," said Kristin. "They are conducted in an actual pool where the dog and human work together as a team in the water, allowing for a very unique and positive bonding experience."
Kristin also attributes Kylie's success to Nick, the pup's beloved technician.
"Simply put, Nick is the reason Kylie Ann is healthier, happier, stronger and more confident dog today," said Kristin. "He's the best!
Kylie Ann was expected to have a slight limp after her surgery, but after three months of working with Nick in the pool, she not only recovered from surgery faster than expected, but she also had no evidence of a limp.
"She's in the best condition of her life," said Kristin. 'Kylie Ann's physical and emotional transformation were remarkable."
In fact, Kylie Ann's progress was so impressive, Kristin decided to bring her brother Casey, a one and a half mixed pup, to Purr'n Pooch's Hydro Fun sessions. Casey, a pup rescued from a high-kill shelter, is sensitive and wary of other dogs. But with Nick's help, Casey is benefiting from this engaging and enriching activity just like sis.
Casey started the sessions unable to swim. Now, the pup is learning to surf. Nick uses a surfboard with Casey, encouraging balance and coordination.
"Besides building confidence and being incredibly fun, the bonding, healthy exercise, reduction in stress, teaching of relaxation and increased body awareness and endurance has just been remarkably beneficial for Casey," said Kristin. "Casey's trusting and special relationship with Nick, coupled with his patience and compassion with Casey, has enabled my fearful little dog to relax more, increasing his self-confidence in and out of the water; simply above and beyond any of my expectations."
Kylie Ann continues to work with Nick in the pool and build her strength and maintain a healthy weight. The objective now is to prevent another injury from happening and keeping Kylie Ann motivated and happy.
"I'm not sure there is anything that brings her as much joy and happiness as her weekly pool time with Nick," said Kristin. "What a special bond they now share."
Click here for a video of Nick and Kylie Ann in the pool!
Purr'n Pooch offers aquatic exercise sessions in our indoor spa pool located in Wall, NJ. Our experienced pet care instructors will care and comfort your dog with ease and patience. Swimming, games, and other exercise routines are part of the fun as your friend learns to move and play gently in our warm, spa waters. Private sessions are available and the pool setting is calm and quiet – ideal for relaxation and rejuvenation. Click here for more information.