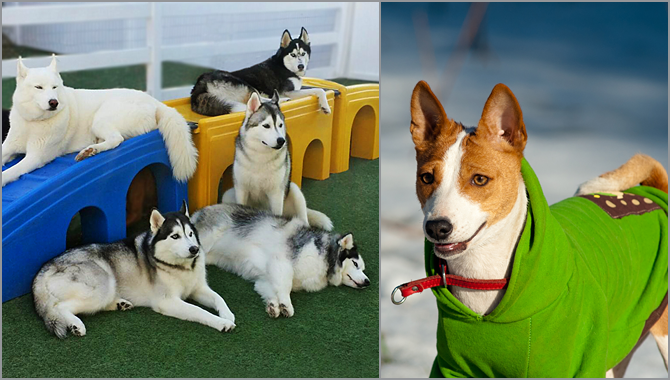 Winter is the time for dry and itchy skin, salt-covered sidewalks giving way to mucky snow water, and all around miserable conditions. Just like we moisturize and care for ourselves during the rough winter months, our dogs deserve the same kind of attention.
As the cold finally moves across New Jersey, here are some tips to help care for your dog's fur from Purr'n Pooch's pet stylist and groomer Cherise Burczya, a 15-year-veteran of the pet resort:
1. Brush. Pups' fur need tender loving care just like our own locks. Brushing promotes a healthy coat and skin, especially in the dry winter months. Regular brushing also helps reduce matting, something common when fur gets wet with snow or rain, and can help keep fur from clumping. And as an added bonus, regular brushing helps keep fur shiny by distributing the nutrients and oils that keep fur healthy and clean. Dogs need regular brushing no matter the length of their coat. Brushing is also a great way to bond with your pup.
2. Rinse. In the snowy winter, the salt used to melt snow and ice can mix with the liquid to create a nasty mess that can tangle in pups' fur, resulting in matted, dull, dirty fur. Make sure to rinse off dirty fur after a bathroom break with warm water to prevent matting. But don't forget the feet! The pads of the feet can quickly become aggravated with salt, resulting in painful paws for pups. Rinsing feet with warm water or cleaning them with a washcloth can help prevent irritation. 
A great way to soothe and pamper your pet's tired, winter paws is with our paw pad cream, which contains vitamin E and essential oils. It can be added to any spa or grooming package for $5. The cream is also available for purchase in Purr'n Pooch's retail boutiques for $10.
3. Moisturize. A dry winter can cause even drier skin due to dry, forced air, so it's important to keep moisturized. Purr'n Pooch offers Oxy Oatmeal Soothing Baths, which soothe dry and irritated skin. And the Strawberry Milk Bath revitalizes damaged and stressed hair that will leave pups with healthy skin and a soft coat. If your pooch's skin is extra dry, try a therapeutic hot oil treatment, which will boost and rejuvenate the skin and pores.
4. Groom. Most people think it's good practice to keep a dog's coat longer in the winter to stay warm. But actually, it's better to keep your pooch trimmed during the cold winter. Inside dogs are acclimated to the heat, and aren't in danger of becoming too cold. By leaving the fur longer, pups are susceptible to matting and a dingy coat, because the longer the fur, the longer it takes to dry after it gets wet. Cherise recommends continuing to groom and trim your dog as normal during the winter. Many dogs come into Purr'n Pooch regularly, typically every four to six weeks for a basic trim.
Make sure to pay special attention to your dog's fur and skin this winter. Purr'n Pooch offers a variety of pampering services that can help keep dogs (and cats) healthy and happy this chilly season.