Each year, the Purr'n Pooch Foundation for Animals awards grants to non-profit animal rescue and welfare organizations, ensuring that organizations helping animals in need are getting proper funding and help from outside sources. Sedona Shepherd Sanctuary was among those animal rescue organizations who received grants from the Foundation in 2015. With the money they received, the shelter was recently able to save an in-need dog from euthanization. Here is her story:
Daisy was found as a stray in the streets of Philadelphia. She came into the shelter with severe ear infections and with a limp and skin condition. The shelter estimated her to be between 7 to 10 years of age.  No one had come to claim Daisy and her time was quickly running out at the shelter. The shelter was overcrowded and because of her size, age and medical conditions, Daisy was on the euthanasia list. Working with Charwill Kennels in Pennsylvania, Sedona Shepherd Sanctuary was able to bring Daisy into their program. When Daisy arrived, she was in good spirits and happy to be able to stretch her legs, pick up a nice big stick and go for a walk.
Daisy's attitude was good, but her ears were in need of immediate medical care. Her hind area was matted and she had developed a big hot spot on her left hip. Daisy was sedated so that the back of her legs could be shaved and her ears could be cleaned. 
Following her vet visit, Daisy got a much-needed bath. German Shepherds can become stressed in situations like this and Daisy had some intestinal issues as well. After a diet of bland rice, grain-free food, and canned pumpkin, her stomach started to get better.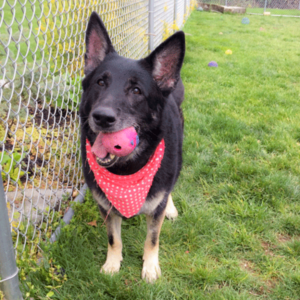 Daisy has an engaging personality and loves to have humans pay attention to her. She will quickly give kisses showing her affectionate side. Daisy is also very smart.  She will drop a ball or toy when playing fetch and knows her basic commands. Daisy will go into her crate when told, walks well on a leash, and if she sees a nice stick along the way, she will gladly pick it up and proudly keep on walking with it in her mouth.
Daisy is now ready for adoption, looking for her forever home. Sedona Shepherd Sanctuary was able to take Daisy in and afford her medical care because of the grant from Purr'n Pooch Foundation for Animals. Daisy is now able to enjoy her new life.  If you are interested in adopting Daisy, visit her page here.
From Jim Dascoli
President of the Sedona Shepherd Sanctuary
The Purr'n Pooch Foundation for Animals awards annual grants to non-profit, no-kill animal and marine mammal rescue and welfare organizations. To apply for a grant, click here.