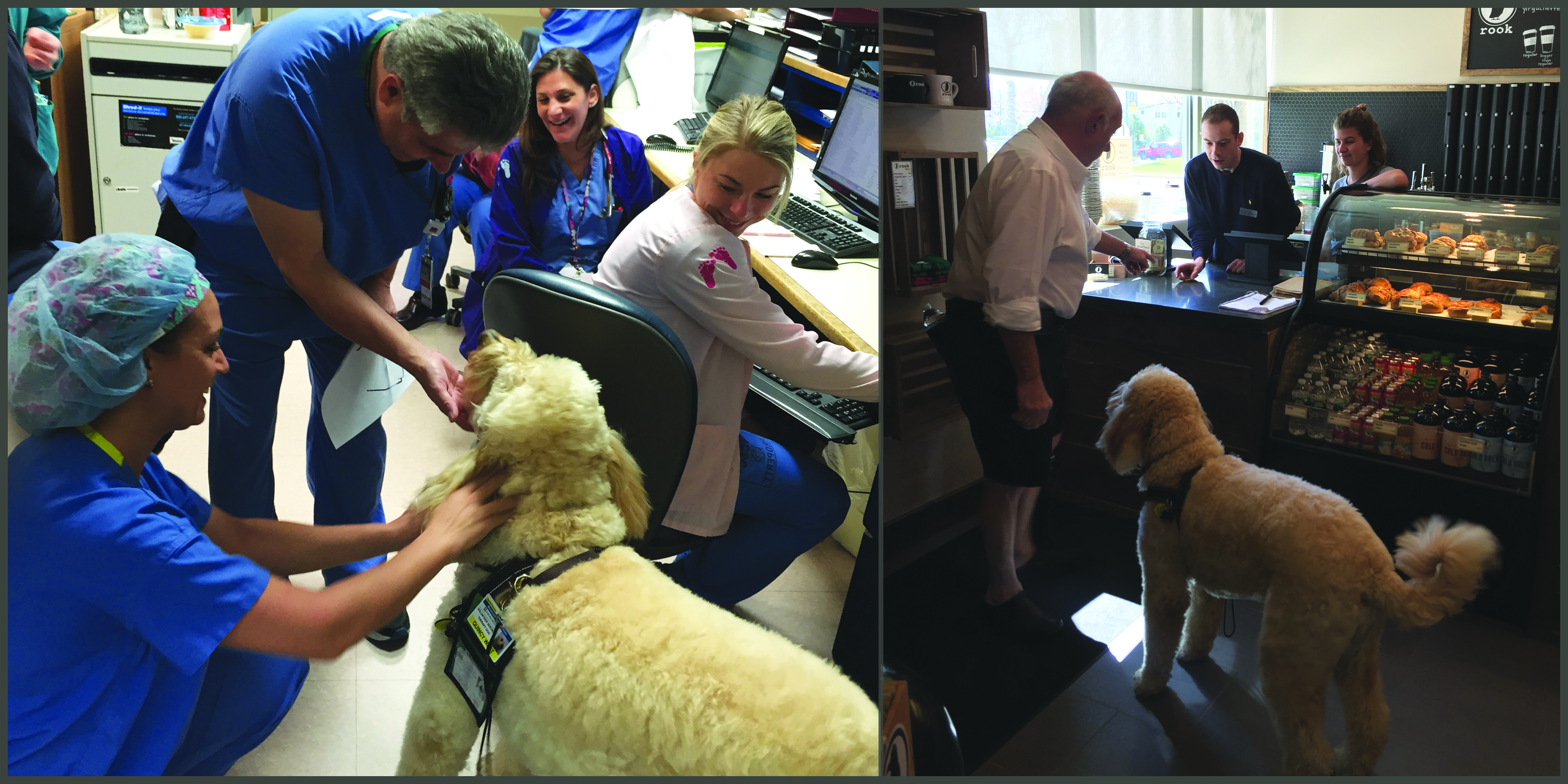 So many dogs have a greater mission in their lives. At Purr'n Pooch Pet Resorts and the Purr'n Pooch Foundation for Animals we honor animals for their contributions to the community, like a senior dog who saved his family from a fire and military working dogs who work hard to help defend our country. Here's a story about a pup who comes to Purr'n Pooch daycare who's making the lives of those in need a little more enjoyable.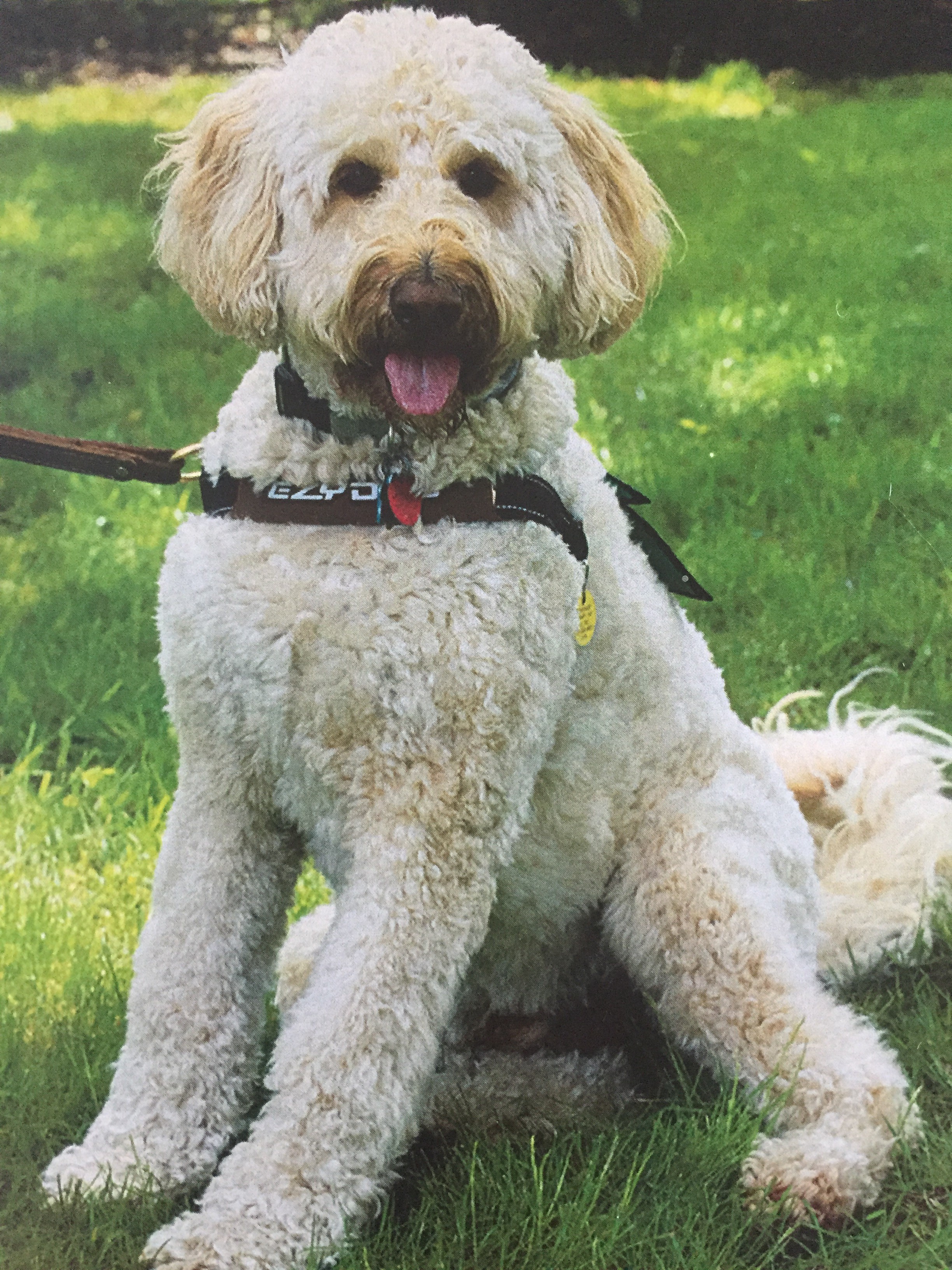 Quincy West loves to go where everyone knows his name.  And that place just happens to be Monmouth Medical Center.
The 5-year-old Goldendoodle is a therapy dog, bringing joy and smiles to patients at Monmouth Medical Center in Long Branch, NJ. His owner, Fred West, is almost as popular as Quincy in the halls of the hospital.
The two visit twice a week, on Wednesdays and Sundays, walking the halls, visiting waiting rooms and patients who could use a distraction. Visitors see Quincy coming and their faces light up. Petting the pooch brings even more joy.
Fred and his wife Kathi got Quincy when he was just a pup, and took him to a class when he was six months old to begin learning social skills. Then, when Quincy was one, Fred took him to be tested to be a therapy dog.
"I knew I wanted a working breed," said Fred, a retired high school discipline principal. "I wanted a dog who would have a job and provide a service."
Quincy is certified through Therapy Dogs International, an organization that certifies and trains dogs and their handlers to visit nursing homes, hospitals, schools, and other organizations. Fred trained Quincy himself, impressive since Quincy is Fred's first dog.
"The bonding that takes place when you're training a dog is tremendous," said Fred.  Purr'n Pooch can attest with our many clients finding that their training and agility classes with us bring them closer to their pets.
And Quincy is now the epitome of discipline, no doubt in part to Fred's background as a disciplinary principal. When he's at the hospital, he rarely barks, never jumps, and always follows Fred's commands, giving high fives to patients and sitting when told to sit.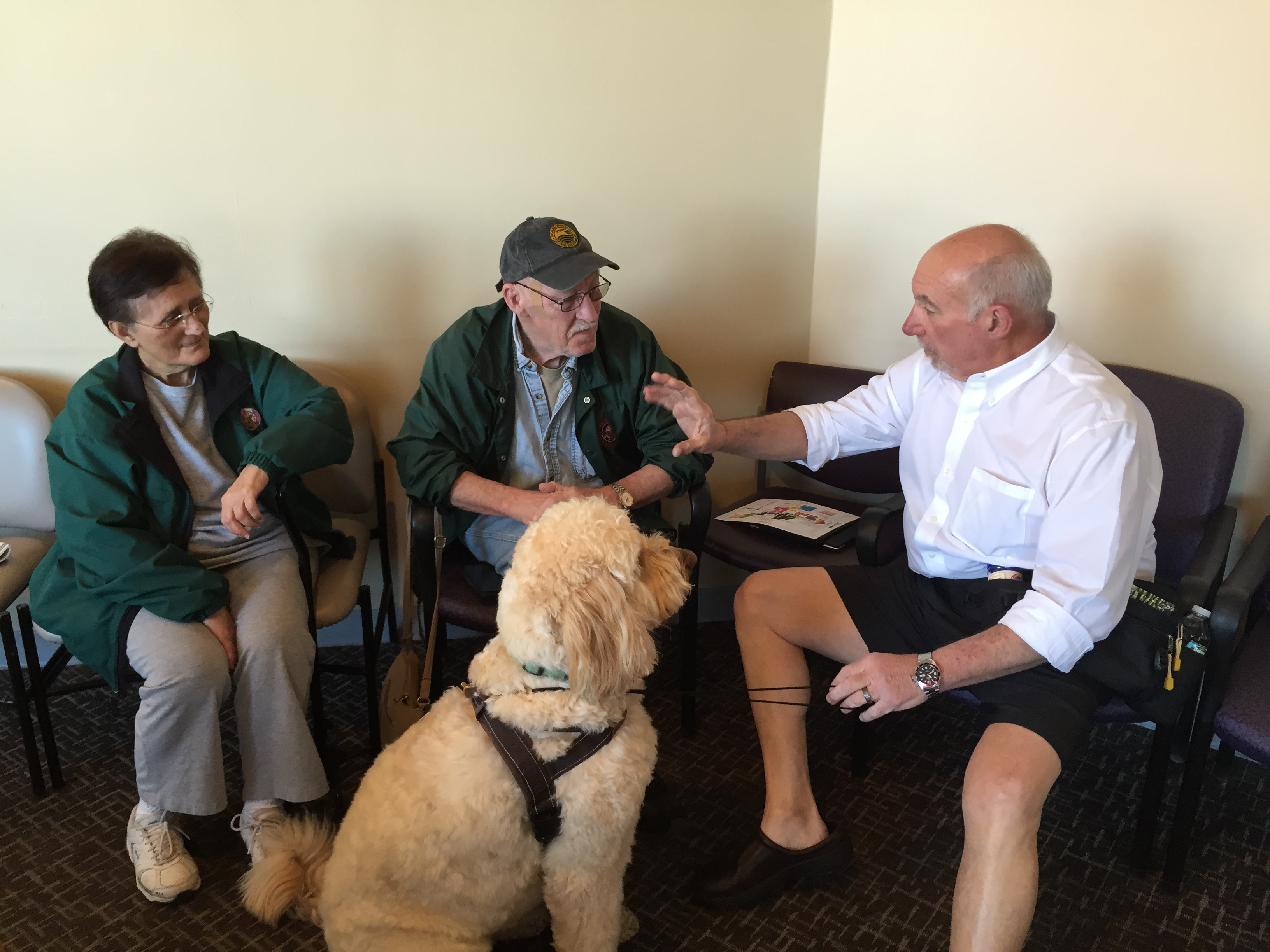 While on duty, Quincy visits the surgical and obstetrics waiting rooms and cardiac patient unit, but the emotion can be felt most in the pediatric wing. During his most recent visit, Quincy spent time with two children in the hospital who didn't know when they were going home. By the time Quincy and Fred left the room, the children were grinning from ear to ear, distracted from their situation.
"Seeing the reaction from patients makes all of the hard work worth it and makes you want to continue doing it," said Fred.
Quincy's popularity at Monmouth Medical doesn't stop with the patients. The staff in every department anticipates Quincy's visits.
"Quincy helps the staff just as much as the patients," said Xenia Popova, a nurse in the cardiac unit. "We all get so excited when he visits and he puts us in a great mood."
In fact, Quincy is so popular that he received the Most Congenial Volunteer Award from Monmouth Medical Center two years running. He was even picked to star in a commercial for the medical center's head of dentistry, Dr. Madeline Badalaty. Watch for it to air soon.
Fred brings Quincy to Purr'n Pooch in Tinton Falls to daycare twice a week so that, in Fred's words "he doesn't forget what it's like to be a dog." Quincy also gets all his grooming done by Dana at PNP as well.
"Purr'n Pooch is the finest operation of its kind," said Fred. "The staff and owners are knowledgeable and caring and they really know what it takes to care for people's pets."
April 30 is National Therapy Animal Day, created to recognize all the exceptional therapy animals who partner with their owners to bring comfort and healing to those in need. The awareness day is meant to raise awareness and educate the public on the role therapy animals play in enhancing the well-being of those in need and honor the thousands of dedicated therapy animals and handlers who volunteer their time and compassion.
Interested in working with a therapy dog? Contact Therapy Dog International for more information or to get started.