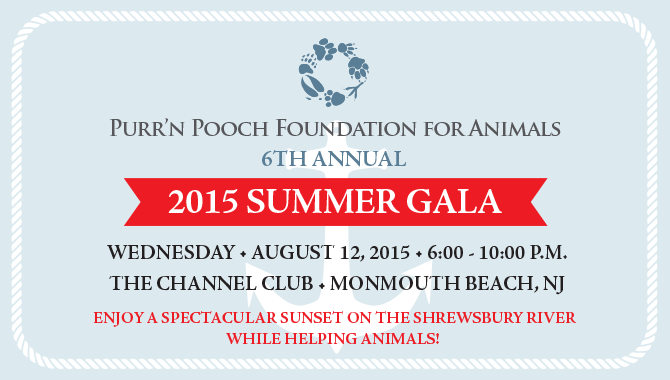 The sixth annual Purr'n Pooch Foundation for Animals Sunset Summer Gala will take place Wednesday, August 12, 2015 from 6 to 10 p.m. at The Channel Club, 1 Channel Drive, Monmouth Beach, NJ. The gala is open to the public and is $100 per person. Dress is summer casual. The event raises funds to support the incredible work of the Foundation's grantees, organizations and non-profits working for animal welfare.
Since 2010, the Foundation has awarded over $150,000 as well as in-kind donations of pet supplies and food to non-profit, no-kill animal and marine mammal rescue and welfare organizations. Funds raised from the sixth annual gala will help continue to support these heroic organizations.
The Sunset Summer Gala will be a night of dinner and dancing, with a raw bar provided by The Lusty Lobster. There will also be a silent auction, raffles and games. In-kind donations are being accepted for the silent auction.
The evening will feature music from Bobby Bandiera, a New Jersey rock guitarist, singer and songwriter, best known for playing the rhythm guitar for Bon Jovi in live performances.
There are a number of sponsorships available for the Sunset Summer Gala. Find out more information about becoming a sponsor. >
Register, become a sponsor, or give an in-kind donation. >
For more information or to inquire about volunteer opportunities, email savelives@purrnpoochfoundation.org.
The Purr'n Pooch Foundation for Animals is a volunteer-run, grant-making organization dedicated to providing financial support and educational resources to animal rescue groups and organizations across the United States. The Foundation is committed to helping passionate organizations and non-profits working for animal welfare pursue their worthy missions. Regardless of species served, the Foundation supports those deserving organizations that do so much with so little.

EVENT SPONSORS