SAVE THE DATES FOR EVENTS & PROMOTIONS!
April showers may bring May flowers, but the month also brings warmer days and plenty of fun on the Purr'n Pooch Pet Resorts playground. Have your pets join us for an exciting month of events, promotions and a shower of love from our staff.
EVENTS

APRIL IS PREVENTION OF CRUELTY TO ANIMALS MONTH
All month long, the Purr'n Pooch Foundation for Animals and friends will collect pet supplies and food for All Fur Love Rescue. The charity helps animals in need of love and rescue, and we're honored to support them during this important month of awareness.
Visit the charity's website for a Wish List of items needed. >
See our office hours for drop-off. >


BIRTHDAY PARTIES & EASTER EGG HUNTS
Tuesday, April 8 ~ Tinton Falls
Wednesday, April 9 ~ Wall
7 a.m. – 7 p.m.
Friends in boarding and daycare will hunt for eggs and enjoy treats and games on the playground.

DOG TRAINING CLASSES
7-Week Training Sessions Held Weekly
Puppy Basic I
Adult Basic I
Adult Basic II
Purr'n Pooch Pet Resorts Tinton Falls Training Hall
First class no dogs – humans only. Our Certified Pet and Dog Trainers (CPDT) specialize in household manners, everyday commands and prepare your dog to obey instructions at home, in public and around other dogs. Our animal behavior training uses a reward-based curriculum that's based on positive reinforcement. Best of all, basic dog training with Purr'n Pooch is fun because we enjoy helping your pooch learn and grow. To register call 732-842-4949 or email info@purrnpooch.com.
Learn more >


SPECIAL GUEST EVENTS:
TRAINING WORKSHOP & CHARITY FUNDRAISER
Purr'n Pooch Pet Resorts will host a very special event with friend Dr. Ian Dunbar, world renowned veterinarian, animal behaviorist, and dog trainer.
SIMPLE SOLUTIONS FOR COMMON DOG BEHAVIOR & TRAINING PROBLEMS
Thursday, April 24, 2014
9:30 am – 5:30 pm
86 Gilbert St West, Tinton Falls
This is a people-only workshop for both dog owners and dog professionals.
No dogs please.
This workshop has been approved for 6 CEUs by the CCPDT & IAABC.
Registration: $90 Early Bird (until March 24) then $120
Group Discounts available: 10% discount for 5 or more; 25% discount for 10 or more.
Email info@jk-pub.com to set up a group discount.
Get workshop details and register >
MEET & GREET WITH IAN DUNBAR TO BENEFIT PURR'N POOCH FOUNDATION FOR ANIMALS
Thursday, April 24, 2014
7:00 pm -9:0 pm
Following the workshop, Purr'n Pooch Pet Resorts will host a Q&A with Dr. Ian Dunbar to benefit the Purr'n Pooch Foundation for Animals. The intimate evening is a special opportunity to speak with Dr. Dunbar about your specific dog training and behavior problems. Light refreshments will be served.
Admission: $25 Donation
Purchase tickets >
Email info@purrnpooch.com with questions.
PROMOTIONS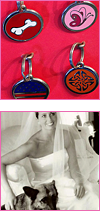 NATIONAL PET ID WEEK
During National Pet ID Week, April 20-26, enjoy 10% off ID tags at both Purr'n Pooch Pet Resorts retail boutiques.

WEDDING DAY WITH YOUR BEST FRIEND
Include your best friend on your wedding day for a walk down the aisle, pictures and more! Purr'n Pooch Pet Resorts will train, handle, transport, groom and board your pup for the special occasion.
Learn more. >

PAWSITIVELY NOTEWORTHY DATES
April 1-30 ~ Prevention of Cruelty to Animals Month
April 1-30 ~ Pet First Aid Awareness Month
Get Tips from the American Veterinary Medical Association
Friday, April 11 ~ National Pet Day
April 20-26 ~ National Pet ID week
Sunday, April 20 ~ Easter (Office is closed)
Saturday, April 26 ~ National Kids and Pets Day
For more information, call 732.842.4949 or email info@purrnpooch.com.