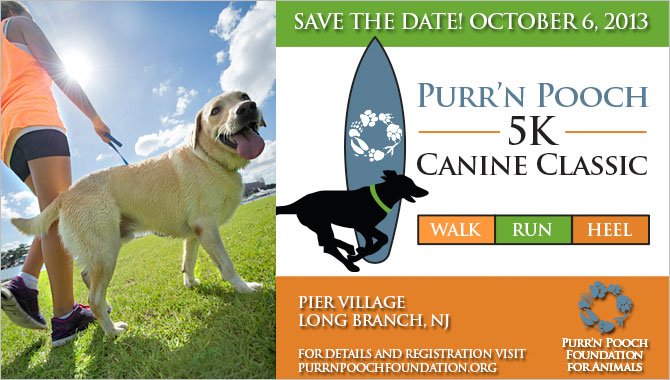 Paws down dog owners are more likely to engage in physical activity and stay fit and healthy just by walking or running with their best friends a minimum of 2-3 times a day.
Bringing a dog into your home could also have a host of health benefits from helping to lower blood pressure to beating depression. According to a recent health report from the American Heart Association, owning a dog has also been shown to reduce a person's risk of a heart attack.
So why not consider bringing home a new friend to help you lead a happier and healthier life?
There are dozens of animal rescue organizations across the country ready to help you find and adopt your best friend and workout buddy.
Before starting any physical fitness routine, visit your veterinarian to make sure that your new up or old friend is up to meeting the physical demands of a high impact walk or run. Once you get the green light from your vet, start an exercise routine with easy strolls and build up to a comfortable, quicker pace that gets both you and your best friend's hearts pumping. Even a dog that has been with a family for years, but has not been very active will need to be checked out by his vet before burning those calories.
The fun of having a dog as your workout buddy doesn't stop with its health benefits either. There are plenty of social perks like making time to enjoy the great outdoors and discovering new friends.
Many love matches have also been made when our pets have pulled cupid's arrow and shot right on target! Purr'n Pooch's Betsy Palazzo and her husband Chris Dudick met thanks to their shared love of animals, while working together on "Tails" of Love, a joint project of the Purr'n Pooch Foundation for Animals and Dudick's children's production company of Small Factory.
You can combine your love of staying in shape with your pet by registering for pet-friendly events across the NY/NJ region. These events provide fun venues for getting out with your pup and often raise funds for less fortunate animals and the charities that care for them.
On Sunday, October 6 we invite you and your pup to walk, run and heel for animals at the Purr'n Pooch Foundation's annual 5K Canine Run Walk Classic at the beautiful oceanfront location of Pier Village in Long Branch, N.J.  The race starts at 8 a.m. and all are welcome to attend. Dogs are required to run or walk on leash.  Pre-register online. Race shirts will be given to all two-legged participants. Cost is $25 per adult and dogs walk or run free. Race is rain or shine.
"We're looking forward to Purr'n Pooch's Second Annual 5K Canine Run Walk Classic. It's a great day seaside at the dog-friendly Pier Village where people and their pups get a running start to benefit animal charities from across NJ and NY," said Elizabeth Palazzo Dudick, President, Purr'n Pooch Foundation for Animals. "Getting out to enjoy time with our pups and friends on what we hope will be a beautiful fall morning, is one small step we can take to help unsung heroes who take huge strides daily to help animals in need of love and rescue."
The Purr'n Pooch Foundation for Animals awards annual grants to non-profit, no-kill animal welfare organizations to be used for day-to-day operations, emergency relief, spay/neuter efforts, veterinary care, equipment, construction, vehicle purchases, educational programs and special projects. We are able to help support the efforts of the charitable organizations by holding fundraisers such as the race.
In 2013 the Foundation awarded grants to organizations including Operation Kindness, Marine Mammal Stranding Center, Ramapo-Bergen Animal Rescue, Monmouth County SPCA, ReRun Horse Rescue, Mid-Atlantic Bull Dog Rescue and New Life Boxer Rescue.
If you and your four-legged companion aren't ready to hit the competitive world of racing just yet, you can still join us and have a great time cheering on the participants. You might also get inspired to start hitting the pavement with your pet and begin training for next year's race!
For other pet-friendly races in the area and nationwide visit www.dogtreader.com and www.runnersworld.com.