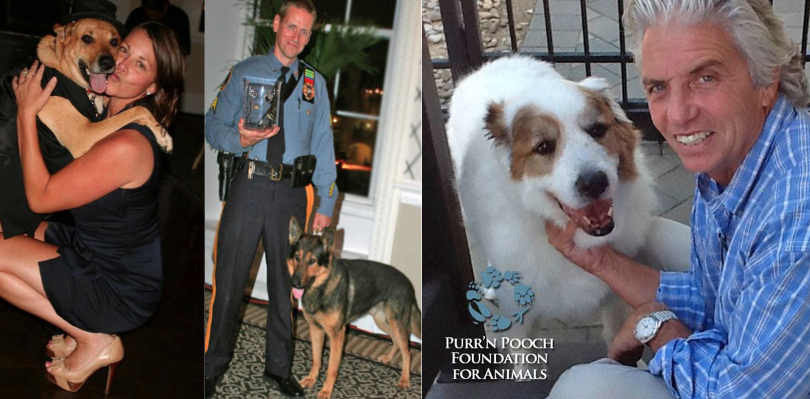 Summer is a special time at Purr'n Pooch Pet Resorts. We enjoy seeing many familiar faces in our daycare and boarding and making new friends who love their family pets as much as we do. For more than 40 years, the Palazzo family has been committed to providing Jersey Shore residents and visitors with the very best in luxury pet care, training, grooming and more. When we're not pampering your pups and cats with birthday parties and strawberry baths, we're helping animals not as fortunate through the Purr'n Pooch Foundation for Animals. 
In 2010, Dick and Mary Palazzo's daughters Koren and Betsy founded the Purr'n Pooch Foundation for Animals to honor their parents' incredible life's accomplishment – a celebration of 40 years in the pet industry. Their gift continues to keep giving and to date grants totaling more than $55,000 have been awarded to nonprofit animal rescue organizations from across the NY/NJ region. Our nonprofit grantees help all kinds of life from stranded seals off the Jersey Shore to canine police dogs protecting communities across NJ. There are many groups, large and small, in need of help and we're honored to lend a paw in their time of need.
Past grantees include the Marine Mammal Stranding Center, Operation Kindness, Ramapo-Bergen Animal Refuge, All FUR Love Animal Rescue, Monmouth County SPCA, Re Run NJ, Mid Atlantic Bull Dog Rescue, New Life Boxer Rescue, Cat Assistance Network, Greyhound Friends of NJ, Project Animal Worldwide, Special Needs K9, St. Hubert's Animal Welfare Center, and Wag On Inn Rescue.
The Purr'n Pooch Foundation for Animals is run by a volunteer board of veterinarians, pet industry experts, media professionals and others whose work is made possible thanks to the generous support and passion of Purr'n Pooch's employees, clients and vendors.
You've donated food and pet supplies to help families and organizations during Superstorm Sandy; you've dressed your best to raise donations for animal charities at our annual "Black Tails Gala"; you've shared our "Tails of Love" animations educating children on pet adoption; and you've participated in fundraisers from Kissing Booths to pictures with Santa Paws. It's pawesome to look back on all the fun we've had over the last few years! Thank you for your part in making the Foundation such a great success.
Purr'n Pooch Foundation grants are awarded to non-profit, no-kill animal welfare organizations to be used for day-to-day operations, emergency relief, spay/neuter efforts, veterinary care, equipment, construction, vehicle purchases, educational programs and special projects. More details are available on our website. Please share the grant application with a charity that you think may need our support.
Please also make sure to join us for our upcoming "furstivities" and let's share our love for animals by raising funds for charities in need of assistance.
Sweet Summer Night Dessert Party
Honoring Our Canine Hero Mac
July 27, 2013, 7:00-11:00 p.m.
Deal Golf & Country Club, Deal, NJ
Purr'n Pooch K9 – 5K Classic Run/Walk
October 6, 2013, 8:00 a.m.
Pier Village, Long Branch, NJ
Dogs are welcome to run/walk in the race. All dogs must be on leash.