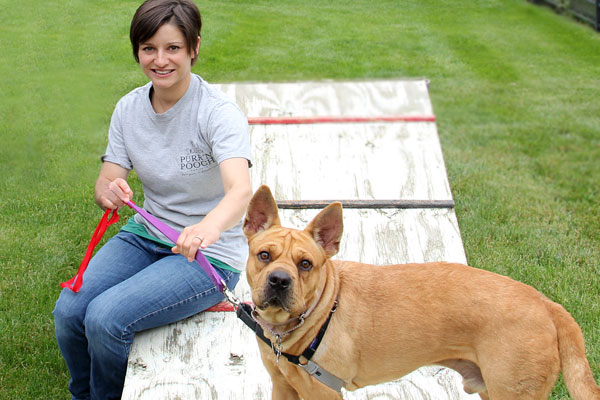 Iuliana Gedo, dip.CBST  and her friend Aidan invite you to "paws" this winter and join them for training classes at Purr'n Pooch.
Our Certified Pet and Dog Trainers (CPDT) specialize in household manners, everyday commands and prepare your dog to obey instructions at home, in public and around other dogs. Our animal behavior training uses a reward-based curriculum that's based on positive reinforcement. Best of all, basic dog training with Purr'n Pooch is fun because we enjoy helping your pooch learn and grow!
PUPPY BASICS (For Puppies 10 Weeks to 5 Months of Age)
Starts Wednesday, January 9th – 7:00 – 8:00 p.m. 7 week session (1st class no dogs – owners only) – $180 + tax Puppy Basics covers potty training, nutrition, bite inhibition and basic obedience, including walking nicely on leash, sit, down, stay, come and leave it/drop it.
ADULT BASICS CLASS (For Dogs 6 Months and Older)
Starts Thursday, January 10th – 7:00 – 8:00 p.m. 7 week session (1st class no dogs – humans only) – $180 + tax For the adolescent or adult dog that needs basic training. Our professional trainers will teach you how to teach your dog sit, down, stay (duration & distance), come, walking nicely on leash, leave it / drop it, and how to politely greet strangers. We'll also show you how to address unwanted habits like jumping, mouthing, nipping, barking incessantly and becoming overly distracted in the presence of other dogs.
For information on rates and private/group training classes email info@purrnpooch.com.
MEET THE TRAINER!
Iuliana Gedo, dip.CBST ~ Purr'n Pooch's Trainer Iuliana Gedo has brought much peace of mind and joy to the lives of pet families from across the Jersey Shore. She is a Graduate of the Animal Behavior College's Training Program and Canine Behavior Science & Technology at Companion Animal Science Institute as well as a partner in Best Friends Animal Society's prestigious Community Training Program.