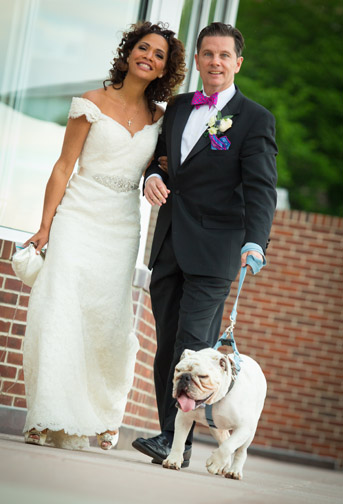 It's your special day. You're marrying the love of your life. Your friends and family are surrounding you in celebration of your big day. So why not take a few moments to celebrate with your furry friends as well? 
Couples are increasingly choosing to make their four-legged friends part of their wedding ceremonies. From carrying the rings down the aisle to flower girls leading dogs on a leash to the bride and groom, pets are a vital part of the special day. 
Ryan and Sarah Taggart made sure to include their border collie, Angus, in their ceremony. Angus was front and center during the vow exchange, watching mom and dad unite in marriage. Then Ryan and Sarah walked down the aisle as husband and wife with Angus right by their side. 
"Angus is the third member of our family, and we wanted to walk out as a complete family," said Sarah.  "I met Angus the same night I met Ryan. Having him in our wedding was really important to both of us. He was on our engagement photo shoot and spent most of our wedding day with us."  
Just as the bride and groom primps for the big day, pups need special grooming too, and Purr'n Pooch Pet Resorts excels at getting your handsome pup ready for the ceremony. The resort will handle, transport, groom and board your dog for the special occasion so you can concentrate on prepping for your wedding. 
Latonya Brennan knew her wedding wouldn't be complete without her bulldog Churchill, so she and her now husband Timothy turned to Purr'n Pooch to make that happen. 
"He's our only child, so we wanted him to be a part of our wedding day," said Latonya. "He's such a significant part of our lives, all of our guests were expecting to see him there." 
Churchill, a four-year-old pooch who loves to play and hang out with his friends, was treated like royalty the day of the Brennan wedding by the staff at Purr'n Pooch. The pup was given a bath and groomed for the big day and fitted with a classy tie and matching leash. Then Connor Kelly, a kennel technician at Purr'n Pooch, transported him to the Molly Pitcher Inn in Red Bank for the reception. 
"Purr'n Pooch went above and beyond to accommodate all of our needs," said Latonya. "Churchill wasn't allowed to be in the hotel, so when it started to rain Connor stayed outside with him through the short shower. He even stuck around with Churchill so we could take photos before taking our pup back to the resort."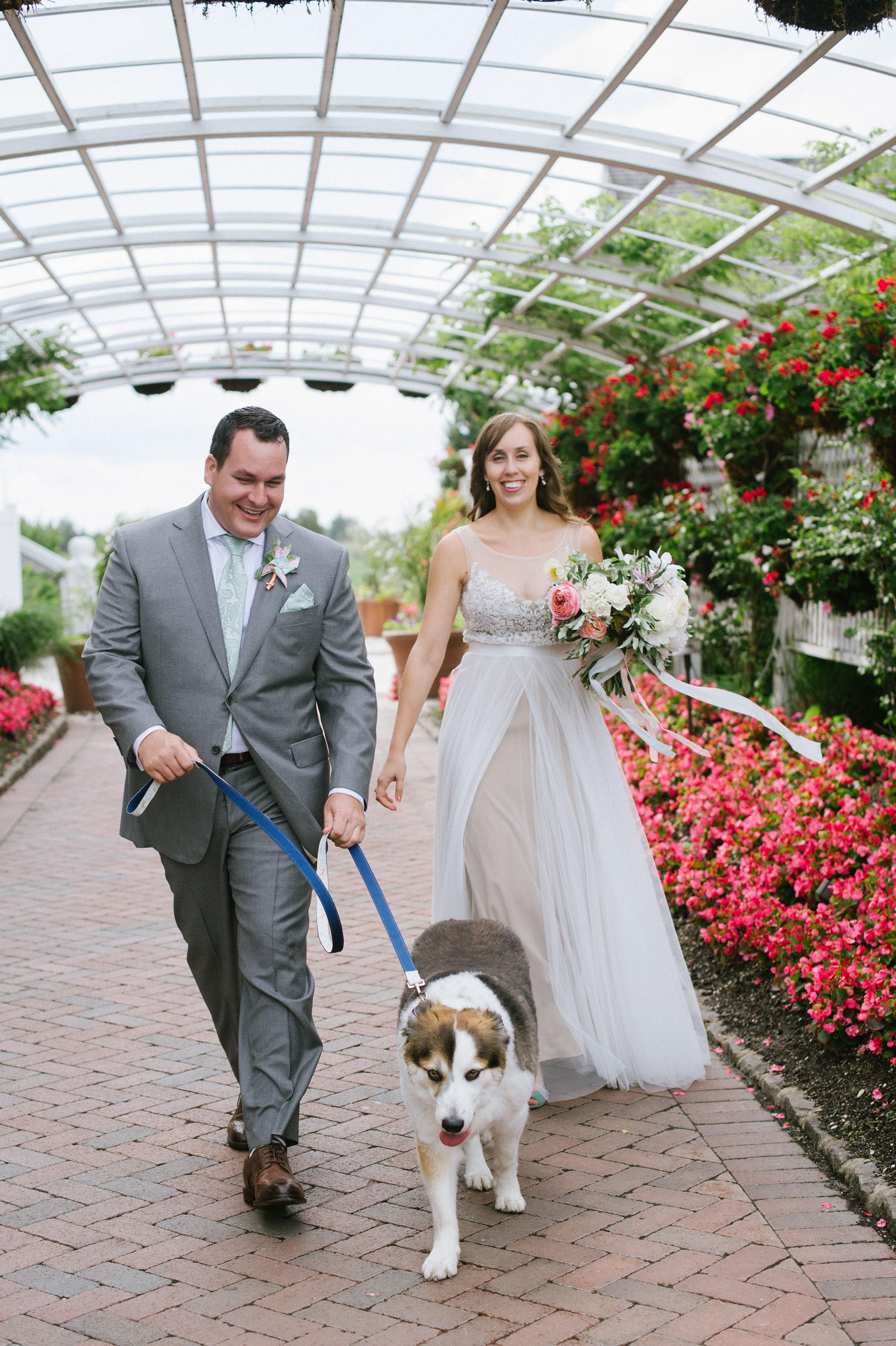 Connor, who has been working at Purr'n Pooch for more than a year, is the designated pet transporter for pet wedding services booked through the resort. But that's not all he does on the big day. He also stays at the ceremony or reception to help with anything the happy new couple and their pup need. 
"I'll stay within shouting distance so I can help with pictures or anything else they request," said Connor. "I try to go the extra mile for our clients. I'd even stand out in the snow if I had to." 
Now that's dedication. 
And that dedication and passion is how Latonya knew she could trust Purr'n Pooch with Churchill on her big day. 
"He plays such a significant role in who we are, he is part of our family," said Latonya. "Not to have him there would have been devastating, and Purr'n Pooch made it happen for us." 
And the great service didn't stop after the reception ended. When Latonya came to pick up Churchill after his stay, there was a special package waiting for the new bride. 
"It was a Purr'n Pooch coffee mug, and I use it every day!" said Latonya. 
Purr'n Pooch understands just how important weddings are, and how important it is for beloved dogs to share in the celebration. 
"Pets are just as important as any family member in my eyes," said Connor. "And one of the biggest thing you can do in your life is get married. It's a no-brainer that you'd want your best friend there." 
So if you want your furry friend to be a big part of your big day, let Purr'n Pooch take care of the details so you can focus on your other Mr. or Mrs. Right. Purr'n Pooch offers several wedding packages for you and your pup. Email info@purrnpooch.com for a complete list of packages and prices.