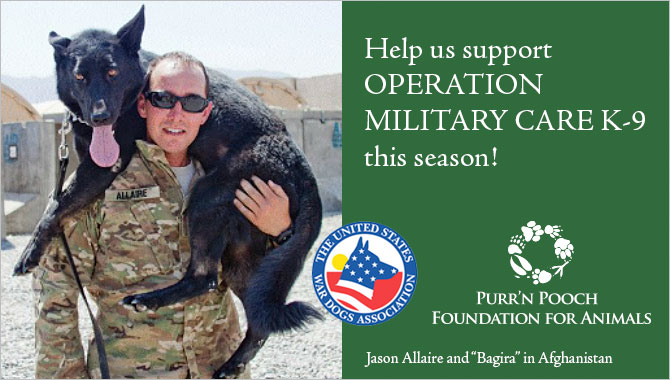 This holiday Purr'n Pooch Pet Resorts at both locations in Wall and Tinton Falls are collecting donations for U.S. Military Working Dog Teams who have been deployed to the Middle East. We need your help in supplying them with gifts.
The Purr'n Pooch Foundation for Animals will host a volunteer working day on Saturday, January 18, 2014 at 2 p.m. at 86 West Gilbert Street in Tinton Falls, NJ. The general public and Foundation supporters are invited to write letters to the dog handlers and prepare their care packages for shipment. If interested in volunteering or for more information, email info@purrnpooch.com.
Visit the United States War Dogs Association for ways to help the organization throughout the year. Operation Military Care K-9 is one of its many wonderful projects. Also be sure to visit the organization's US War Dog Memorial. Dedicated on June 10, 2006, the Memorial, located guarding the gateway to the New Jersey Vietnam Veterans' Memorial in Holmdel, New Jersey, consists of a bronze statue of a kneeling Vietnam War soldier and his dog, set on a black granite base.  The memorial was designed by sculptor Bruce Lindsay. The U.S. War Dogs Memorial, while directly representing the War Dog Teams of the Vietnam War, honors all our nation's war dogs and their handlers – past, present and future.
Purr'n Pooch will be collecting the following items for Operation Military Care K-9:
K-9 PRODUCTS

K-9 Warming Mats
K-9 Boots, Medium & Large
K-9 Doggles
Collapsible Nylon Dog Bowls
Kong 3" Rubber Balls
Large Rope Chews
K-9 Shampoo & Conditioner
K-9 Grooming Tools-Combs, Brushes, etc.
K-9 Nail Clippers
K-9 Beds or Sleeping Mats
K-9 Blankets
K-9 Toothpaste & Toothbrush
K-9 Eye Drops
K-9 Ear Wash
K-9 Advantix, Flea and Tic Treatment
K-9 Salves for paws/noses
Towels to wipe paws
True Chews Chicken Jerky
True Chews Beef Bully Sticks
K-9 Treats
FOOD AND SNACKS FOR THE HANDLERS

Coffee / Tea / Hot Cocoa
Sugar & Creamers
Condiments-Hot Sauce, Ketchup, etc
Lemonade Mix, Ice Tea Mix, Crystal Light
Powdered Gatorade
Instant Foods / Oatmeal /Grits / Ragu Express/ Kraft Easy Mac
Crackers and Cheese
Power Bars
Dried Fruit
Microwave Popcorn
Bubble Gum / Hard Candy
Instant Soup
Tuna / Small Canned Foods
Chex Mix / Chips in Container / No Bags
Fruit Cups
Peanut Butter and Jelly
Salad Dressings / No Glass bottles
Rice, Microwavable
Meals, Microwavable
ENTERTAINMENT

Paperback Books and Magazines
Electronic Hand-held Games
Playing Cards
Yo-Yos
All-in-one Tools
Board Games
Duct Tape
Movies DVD, new or used
Crossword or Sudoko Puzzle Books
AAA, AA, C & D Batteries
Writing Materials
TOILETRIES
Feminine Hygiene Products
Hair Bands / Hair Clips
Nail Polish & Remover Wipes
Nail Clippers / Nail Files/Emory Boards
Q-Tips
Hair Spray (Pump)
Small Mirrors
Shampoo & Conditioner
Soap
Cotton Balls
Personal Hygiene Razors / Shaving Cream (Non Aerosol)
Deodorant
Toothbrushes / Toothpaste
Dental Floss
Eyeglass Lens Cleaner
Soap / Shampoo / Conditioner
Combs and Brushes
Lip Balm / Chapsticks
Sun Block
Clorox Wipes
Baby Wipes
Moisturizing Eyes Drops / Saline Nasal Spray
Hand Cream / Skin So Soft
Liquid Hand Sanitizer
Nail Files / Nail Clippers
Kleenex (travel size)
Eye Drops (for dry eyes)
Throat Lozenges / Cough Drops
Cooling Bananas / Neck Scarves
Hand Warmers
Breath Mints
Heavy Duty Socks
Please note that we will only be accepting dog food and treats that are made in the U.S.A.