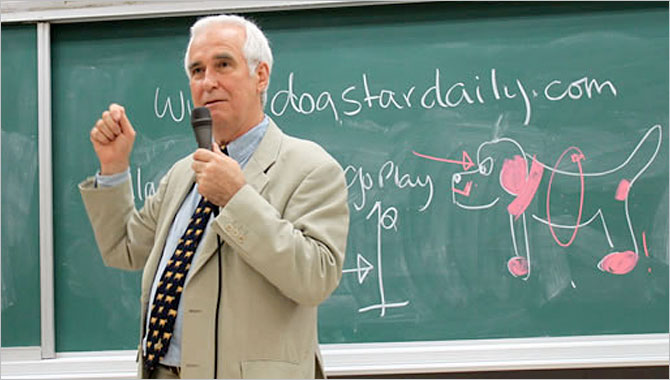 Purr'n Pooch is excited and honored to have Dr. Ian Dunbar present "Simple Solutions for Common Dog Behavior & Training Problems" to community dog owners and trainers. The seminar is scheduled for Thursday, April 24, from 9:30am – 5:30pm at the Tinton Falls location.
There will also be an evening reception at 7 p.m. to benefit the Purr'n Pooch Foundation for Animals' grantees. You won't want to miss this special occasion.
Dr. Dunbar is the pioneer in dog behavior training. Growing up on a farm with a variety of animals ranging from cows and chickens to dogs and cats, he was encouraged by his family to become a veterinarian.
He was also greatly influenced by his grandfather whom he observed using a tactic little used back then of luring the farm  animals to get them to do what he wanted, rather than pushing, prodding and roping. The animals were rewarded by petting and with food, and this reward-based philosophy was later played out in Dr. Dunbar's studies and his own dog training seminars and lectures.
"I read lots of studies while in vet school and academia about the effects of early environmental enrichment and socialization on puppies," said Dr. Dunbar.  "What I learned is that the dog's brain actually degenerates in as little as three weeks' time with the lack of proper socialization. The animal can actually suffer permanent brain damage."
After being invited to give public lectures through the University Extension, Dr. Dunbar found the experience so rewarding after a time that he chose to educate the public full time.
"The public was so eager to learn simple basic techniques of reward-based training and puppy socialization, I decided to make it my life's work," continued Dr. Dunbar.  "Puppies are fun and easy to teach.  The key is to start the process as early as possible by introducing the puppy to many different people and rewarding the dog for the desired behavior. If the dog is denied proper socialization until six months of age, for example, you've lost the opportunity and the dog may never grow to be the happy, well-adjusted and well-behaved dog he could have been."
Dr. Dunbar suggests when you get a new puppy, plan to have regular parties at your home for the first month.
"Introduce your puppy to as many new people as possible," said Dr. Dunbar. "Let your puppy learn naturally not to fear strangers, children or men in particular."
The credits under Dr. Dunbar's name are numerous and include:
Producing the first ever Puppy Training Video, which helped make his reward-based training technique spread easily and quickly throughout the world
Founding the Association for Professional Dog Trainers, which is now the world's largest association of its kind and the only one offering certification to both US and International members
Founding OpenPaw.org which helps Animal Shelters set up a dog socialization and behavior training program
Whether a pet parent or pet professional, you won't want to miss this amazing opportunity to learn from the most highly regarded dog trainer and behaviorist in the world. Expect to learn how to deal with these common canine issues:
House soiling
destructive chewing,
excessive barking
digging
home-alone problems (and separation anxiety)
hyperactivity
 jumping-up
not coming when called
pulling on leash
leash reactivity to other dogs
lack of attention and compliance
This seminar has been approved for 6 CEUs by the CCPDT & IAABC. Register early here for a fee of $90. Separate registration required for the Q&A and evening reception event.