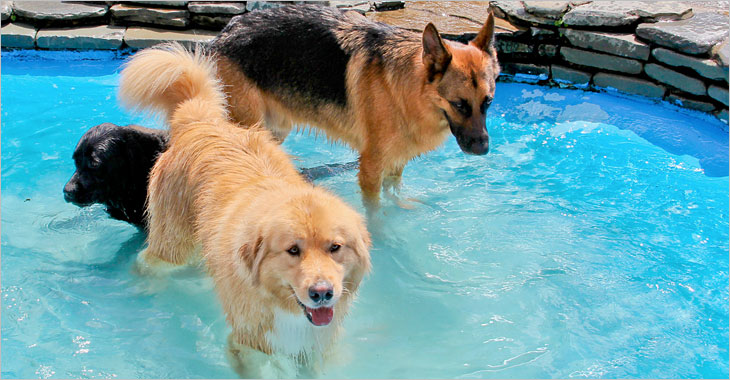 Summer has arrived to the Jersey Shore and families and their pets are spending more time outdoors enjoying the warm sun, fresh air, pool and beach. As we enjoy the dog days of summer, it's important to keep in mind that higher temperatures and humidity can also have unhealthy effects on our pets. Unlike their humans companions, dogs cannot sweat through their skin; instead they pant to circulate air through their bodies and cool down. In dangerous situations, such as being locked in a car or being left in a yard with no access to water or shade, the heat can overwhelm a dog's body and hyperthermia and heat stroke can develop putting the pet at great risk for injury or death.
"Even the healthiest pets can suffer from dehydration, heat stroke and sunburn if overexposed to the heat, and heat stroke can be fatal if not treated promptly," says Dr. Lila Miller, Vice President of Veterinary Outreach, ASPCA. You can protect your pet by taking the simple precautions outlined by ASPCA experts on their website. And, most importantly, if you suspect your pet is suffering from heat stroke, seek veterinarian help immediately.
At Purr'n Pooch Pet Resorts, our pets beat the heat in many exciting ways. Our daycare and boarding dogs love to run through our playground sprinklers and make a splash in our fresh water dog swimming pools. Purr'n Pooch's pools feature natural rock landscaping and waterfalls—perfect for a recreational swim and games for dogs of all ages.  They are also chemical free and emptied and filled daily.
Our playgrounds are always supervised by staff and feature covered areas for our people and pets to access shade. Pets love to sunbathe at Purr'n Pooch, but just like humans they can be harmed by exposure to the sun. Short-haired breeds, dogs with light-colored coats and hairless dogs are most likely to get burnt. There are also certain areas on animals that are most sensitive to the sun, such as the belly, inner thighs and any area where there is little or no hair. We encourage owners to use sunscreen on their dogs, but we caution them to use products made specifically for dogs. Human sunscreen can be toxic if ingested. At Purr'n Pooch, we always have pet sunscreen on hand in case owners forget to apply it before sending their friend in for a day of play.
Most importantly, pets must stay cool with access to fresh drinking water. At Purr'n Pooch, we provide plenty of H2O with automatic water bowls and on hotter days we add some ice, which the dogs love to play with and eat. Keeping cool is a summer breeze at Purr'n Pooch, so we hope to have your best friend visit us soon for fun in the sun on the Jersey Shore. While you're beachside, your pup could be poolside at Purr'n Pooch!
We also offer a fun assortment of  products to kick off the summer in style. Visit us soon in Wall or Tinton Falls! Mention this blog post and receive a complimentary dog treat. 


Summer Product Picks from the Purr'n Pooch Boutique