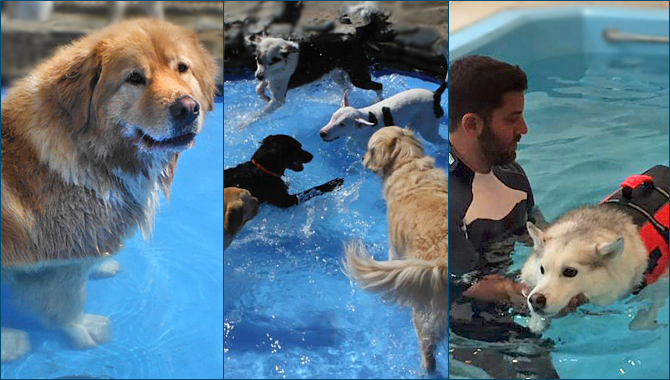 September may have the kids heading back to school, but at Purr'n Pooch our friends are back in the pool. Our freshwater pools are filled daily and available for your dog's enjoyment through the end of September. As long as the weather is warm, outdoor fun in daycare and boarding will include playground games and swimming in our water parks. Also inquire about our new indoor aquatic exercise pool. Contact us to purchase your pool passes for Wall or Tinton Falls. We also invite your pup or cat to join us for the many activities and promotions we have planned for September.


This month, we also launched a new blog series. Purr'n Pooch's President Dick Palazzo will write monthly about myths in pet care, sharing his expert knowledge and experience, with readers.
Read his fist post, "Debunking Myths in Pet Care: Kennel Cough" >
EVENTS

BIRTHDAY PARTIES
Tuesday, September 16 ~ Tinton Falls
Wednesday, September 17 ~ Wall
7 a.m. – 7 p.m.
Friends in boarding and daycare will enjoy treats and games on the playground and activities in our water parks.

PURR'N POOCH CANINE TRAINING ACADEMY
PUPPY BASIC
Tuesdays, 7 to 8 p.m.
MANNERS
Tuesdays, 7 to 8 p.m
Saturdays, 11:15 a.m. to 12:15 p.m
AGILITY
Saturdays, 10 to 11 a.m.
Classes run for six weeks; $200 + tax and are held at our Tinton Falls facility. An Easy Walk harness will be given to the puppy and manners class graduates. Our animal behavior training uses a reward-based curriculum that's based on positive reinforcement. Best of all, basic dog training with Purr'n Pooch is fun because we enjoy helping your pooch learn and grow. Contact info@purrnpooch.com to register or for more information.


TAKE GREAT STRIDES FOR ANIMAL CHARITY!
SAVE THE DATE FOR THE 4TH ANNUAL PURR'N POOCH FOUNDATION FOR ANIMALS 5K CANINE CLASSIC RUN/WALK
Saturday, October 4, 2014
Race Starts 8:00 a.m. ~ Awards 9:30 a.m.
Pier Village, Long Branch, NJ
Get out those running shoes and mark your calendar for a great day seaside to benefit animal charity! Dogs and owners are invited to run or walk. For more details and to register visit purrnpoochfoundation.org.
PROMOTIONS

SEPTEMBER 21-27:
CELEBRATING NATIONAL DOG WEEK   
Buy a 30 day daycare pass and receive a complimentary bath. Promotion cannot be combined with other discounts and must be purchased September 21-27.
PAWSITIVELY NOTEWORTHY DATES

September ~ Senior Pet Wellness Month
September ~ National Guide Dog Month
September ~ Cat Month
September 14 ~ National Pet Memorial Day
September 21 ~ Puppy Mill Awareness Day
September 21-27 ~ National Dog Week
September 23 ~ First Day of Autumn
For more information, call 732.842.4949 (Tinton Falls) or 732.528.8100 (Wall) or email info@purrnpooch.com.