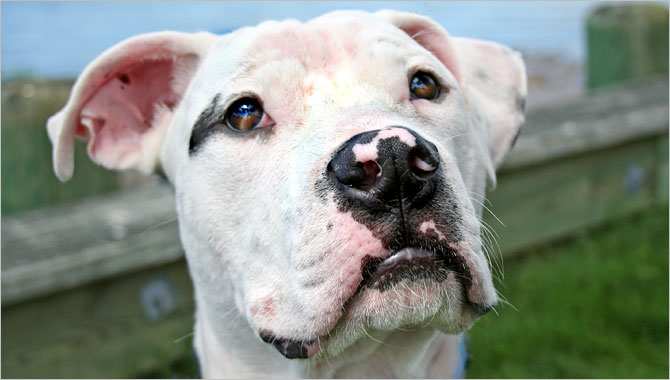 The month of October is designated as Pit Bull Awareness Month, a time to bring positive awareness and attention to the American Pit Bull Terrier. During this month, we also celebrate National Pit Bull Awareness Day, a day of appreciation and education designed to change perceptions and stereotypes about pit bulls and their responsible owners. This year, National Pit Bull Awareness Day falls on Saturday, October 25th.
Pit bulls are commonly misunderstood for being dangerous, vicious and untrustworthy; however, that is just not the case. It is extremely important that we take this time to educate people on the truth about this incredible breed of dog and work towards clearing up any misunderstanding. People hear myths and stories in the news about pit bulls and make assumptions, but the reality is that if there is ever an issue involving a pit bull, the problem is not because of the breed –it's because of the human.
Unfortunately, there are irresponsible owners who train pit bulls to fight in order to make a profit and provide so-called "entertainment". In many cases, those dogs who cannot go on are abandoned or abused by their owners. But pit bulls are not inherently dangerous. Just like other dogs, they can become violent and aggressive through a lack of training, abuse, neglect and irresponsible ownership and breeding, as well as a lack of attention to health and temperament issues. If they are treated with respect, properly trained and cared for, pit bulls will not exhibit these negative traits.
All dogs, including pit bulls, are individuals and no one deserves to be judged based on a stereotype. Through education and compassion, we can work to bring about a positive change for these incredible dogs.
To celebrate Pit Bull Awareness Month, we're sharing stories about some of our wonderful pit bull friends we've had the pleasure of spending time with at Purr'n Pooch's doggie daycare.
MEET JAX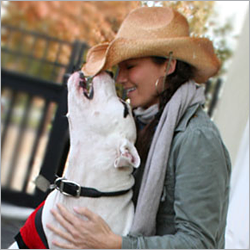 Jax, a five year old pit bull, is the pup of Purr'n Pooch's Betsy Palazzo Dudick, who adopted him in 2011 after he was found roaming the streets of Hoboken, not chipped and malnourished. They found each other after Betsy appeared as a guest on Tracie Hotchner's pet talk radio show to talk about the family business. Hotchner just knew Jax was a good fit for Betsy, who would be able to give him the appropriate care and training. Today Jax is the proud brother of a one-year old baby named Milana and a gorgeous black kitty named Maggie.



MEET HAZEL
Hazel was welcomed into her loving family at 5 months old after being passed around from house to house and ultimately living out of a car on fast food. Her human brother Ryan rescued her from her unfortunate situation in May 2009. Never having a dog before, Hazel's family was a bit reluctant to take her in, especially after hearing the myths of how dangerous pit bulls could be. But after a few weeks of time spent with her, they fell in love and she is now a huge part of their family. Hazel is a loyal sweetheart, and loves going for walks, chasing bunnies, chewing Chuckit!® balls and spending time with her friends at Purr'n Pooch.


MEET STELLA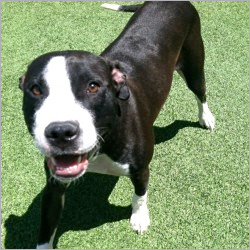 Stella, a 2 year old pit bull, is the biggest love bug. She was taken in as a stray by the Humane Society and adopted by her forever family at 7 months old. She is friendly with both dogs and children. She loves everyone she meets and is full of energy; we must say she's a big fan of our playground!
At night, she cuddles up in bed with her 5 year old human brother Shane, also her best buddy. Don't let her size fool you –even though she is 57 pounds she will still try to snuggle up on your lap!
MEET STAR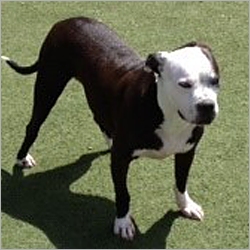 Before Star found her forever home she was left abandoned in an apartment with another dog. She had a crossed eye, which was probably a result of poor nutrition. At the time she was adopted, she loved dogs but was scared of people. Her family wanted her to continue playing with other dogs, so we agreed to slowly ease her into daycare at Purr'n Pooch, limiting her contact with unfamiliar people. Now she has lots of friends! Star loves squeaky balls, going for walks and cuddling. At home, Star is a funny girl who makes her family laugh every day. According to her family, she is such a joy to be around and they're glad they've gotten to spend time with her.

No matter your dog's breed, the experience of the pet boarding and daycare staff you choose is key to your dog having a fun, safe experience while in their care. Read Dick Palazzo's blog on the 4 Questions to Ask When Choosing a Daycare Facility for more on the topic.
Call us in Tinton Falls at 732-842-4949 or Wall at 732-528-8100 to learn more about our daycare and training services.
Photo: Jax Palazzo Dudick