Save the dates for events and promotions
The safety of you, your pets and the PnP staff is very important to the Palazzo family. Curbside drop off and pickup will still be part of our expanded safety protocols. We are very excited for the summer of 2020 as we continue to celebrate our 50 year anniversary. Let your pet come for a visit and enjoy our fresh water pools and join us for our monthly birthday parties. We hope to see you soon!
Events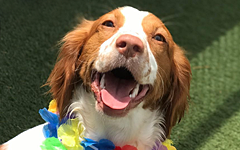 JUNE BIRTHDAY PARTIES
Tuesday, June 9 ~ Tinton Falls
Thursday, June 11 ~ Wall Township
Pool party fun to celebrate our daycare friends born in the months of April, May and June. Pictures will be posted on Facebook after the party.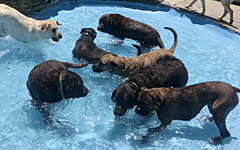 FIRST DAY OF SUMMER 2020
Saturday, June 20
We finally made it to the summer and hopefully sunny weather let's celebrate!
Promotions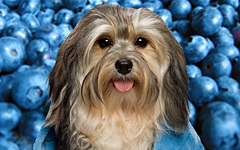 SPA SPECIAL: BARKING FOR BLUEBERRIES
A brighter coat and relaxing spa bath are just what your pet needs this summer. Our spa package includes blueberry shampoo, blueberry conditioner, blueberry facial, teeth brushing, and long lasting blueberry cologne. Cost is $25 plus cost of bath or grooming. Call 732.842.4949 (Tinton Falls) or 732.528.8100 (Wall Township) to schedule an appointment.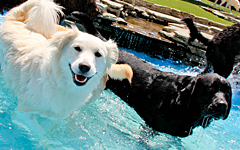 RESORT SPOTLIGHT: OUTDOOR FRESHWATER POOLS
Add pool fun to your pet's summer vacation.
Pawsitively Noteworthy Dates


June ~ Adopt a Cat Month
June ~ National Pet Preparedness Month
June ~ National Microchipping Month
June 4 ~ Hug Your Cat Day
June 8 ~ Best Friends Day
June 9 ~ World Pet Memorial Day
June 21 ~ Father's Day
June 20 ~ First Day of Summer