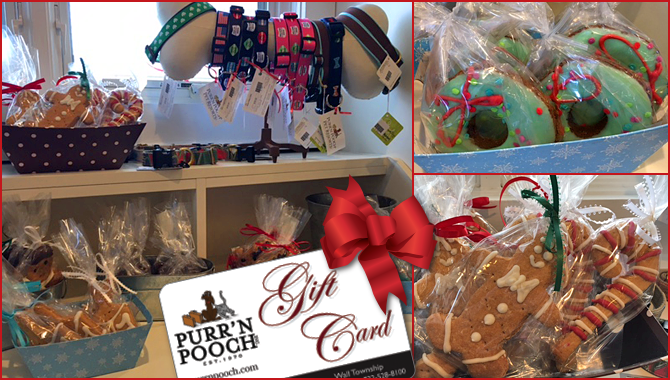 It's no surprise that we're head-over-heels about our pet family at Purr'n Pooch. We love to include them in everything, and the entire holiday season — Christmas and Hanukah included — is a time for special fun and merry-making! Watching them dance with excitement when they open gifts is as much of a thrill for us as it is for them.
From handmade shark cat beds to doggie sweaters sporting the Batman symbol, there are literally hundreds of ideas for what you can put under the tree or near the menorah for your beloved dog and cat. (Check out Pinterest if you have a spare 15 hours or so!) This year, we've asked some of our staff to share their favorite holiday treats and traditions. From the tried-and-true to the one-of-a-kind, just like with our human loved ones, it's the joy of being loved and included that makes a gift, well…perfect!




Helen is the manager at Purr'n Pooch's Wall location. All year long, but especially during the holidays, her 12-year old golden retriever, Brody (pictured with Helen's husband Bryan), and her love to go for walks together through the Asbury Park Convention Hall and boardwalk. On holiday weekends this time of year the hall is lavishly decorated…and heated! Pop up vendors are set up throughout the iconic shore hall. There's music, and the wonderful smells of hot chocolate and other holiday fare surround you, delighting and distracting both you and your canine companion during the walk. There's even a giant Christmas tree!
Helen loves to shop for Brody and does a lot of shopping close to work–in her building, in fact, "At Purr'n Pooch, we have a large assortment of all natural treats that are healthy and delicious. Of course, every holiday has a seasonal theme and right now I can buy Christmas wreaths, snowmen, reindeers and gingerbread men, to name a few. I also like to buy puzzle toys for my friends' pets. They keep your pup busy and challenged."




Jess has been a member of the Tinton Falls team at Purr'n Pooch for six and a half-years. Her four and a half-year old beagle mix, Eros, and her are best buds so she wouldn't let a holiday go by without making sure some of his favorite gifts are under the tree!  "Eros LOVES tennis balls.  Around the holidays, we love driving around looking at the Christmas lights. Some of our favorite neighborhoods are right here on the Jersey Shore in Asbury Park and Belmar, two especially pet-friendly communities."




Jamie's been with Purr'n Pooch for two years as a member of the Tinton Falls team, and is the swim director for both locations. Her nine-year old hound mix, Bucky, is a foodie and loves opening up his stocking — stuffed with treats — on Christmas morning. This year, though, Bucky is also getting a new coat! He'll look oh-so-dapper walking around his favorite neighborhood, Tackanassee Lake in West End, Long Branch!




Tammy is tireless. For the past two years she's been with Purr'n Pooch, she's kept busy covering all departments in the Tinton Falls resort location. She's busy at home, too, with two gorgeous Maine Coon mix bonded sisters, Lilly – six and a half-years and Fanny, who's four years old. No surprise, Lilly and Fanny both love to 'help' Tammy decorate the Christmas tree. In honor of their tree-loving natures, this year they're getting a brand new cat tree of their very own from Santa and a container of cat grass! Her girls don't get out much, but they're fantastic hosts and always love greeting guests at the many parties Tammy has at the house.




Kerri's another Tinton Falls staffer whose six year tenure at Purr'n Pooch has seen her working in all departments. When she's not loving up your dog or one of the other pets entrusted into her care, she's giving belly rubs to Gavin, her four and a half-year old mastiff/visla mix. During the winter holiday season, Gavin likes nothing better than a nice, powdery snowfall that he can run and roll in with Kerri. After exhausting himself in the cold, he likes to snuggle up with his favorite human and watch TV!
For Christmas this year, Kerri bought Gavin a huge bone…nearly as big as he is! "That should give him a few weeks worth of satisfaction," she laughs. "The best gift I ever got, Gavin, though, was his Tempurpedic bed." Gavin's not much of a man-about-town, but instead prefers to stay at home and sleep in. Who wouldn't when you have a super-comfy Tempurpedic bed?
All year long, and especially during the holiday season, Purr'n Pooch is grateful to have such a super team of professional, warm and fun-loving women and men who staff our locations and deliver the best services to the pets we care for. Many of our more than 75 staff members have been with us for at least four years, and there is a core group that have worked together at Purr'n Pooch for more than 25 years. They love the animals we serve and the home-like environment we've purposefully fostered since the doors opened in 1969. It makes for a warm, easygoing atmosphere when you have a team with experience who love what they do as well as the people they work with.
If you still have some dogs and cats on your holiday shopping list and are having a hard time coming up with ideas, please feel free to talk with one of our staff members. They LOVE to help you shop and spend money on cool treats and toys for your pets!
Both our Tinton Falls and our Wall locations have pet boutiques that carry a wide selection of toys, treats, clothes and other items that will delight and entertain your dog and/or cat, and this time of year there are lots of choices that celebrate the holiday spirit! The boutiques are open during regular business hours for both locations.
Happy shopping, and a very merry to you and your entire family from all of us at Purr'n Pooch.