ADULT BASICS CLASS
(For Dogs 6 Months and Older)
Starting Wednesday, May 1st, 7:00-8:00 p.m., 7 Weeks $180+tax. First class humans only. For the adolescent or adult dog that needs basic training. Our professional trainer will teach you how to train your dog sit, down, stay (duration & distance), come, walking nicely on leash, leave it / drop it, and how to politely greet strangers. Pet parents will also learn to address unwanted habits like jumping, mouthing, nipping, barking incessantly and becoming overly distracted in the presence of other dogs.
PUPPY BASICS
(For Puppies 10 Weeks to 5 Months of Age)
Starting Tuesday, April 30th, 7-8 p.m., 7 Weeks $180+tax. First class humans only. Puppy Basics covers potty training, nutrition, bite inhibition and basic obedience, including walking nicely on leash, sit, down, stay, come and leave it/drop it.
Classes are held at the Purr'n Pooch Tinton Falls, NJ Training Hall.
80 Gilbert Street West • Tinton Falls, NJ 07724
Call 732-842-4949 or email info@purrnpooch.com to register.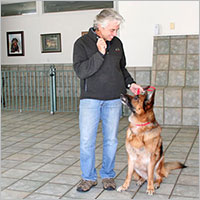 "Make training fun… they will learn. The simplest philosophy I have learned in all my years of experience is to maintain patience, compassion and respect while training your dog. This will build confidence and make the training process fun for you both. Always view things from your dog's point of view and you will build a bond with your dog and achieve fantastic results and a lifelong friendship."
Dick Palazzo, President, Purr'n Pooch Pet Resorts, Celebrating 43 years of Luxury Pet Care & Training on the Jersey Shore
MEET THE TRAINER
Iuliana Gedo, dip.CBST (Pictured above with Student Harley)
Purr'n Pooch's Trainer Iuliana Gedo has brought much peace of mind and joy to the lives of pet families from across the Jersey Shore. She is a Graduate of the Animal Behavior College's Training Program and Canine Behavior Science & Technology at Companion Animal Science Institute as well as a partner in Best Friends Animal Society's prestigious Community Training Program.