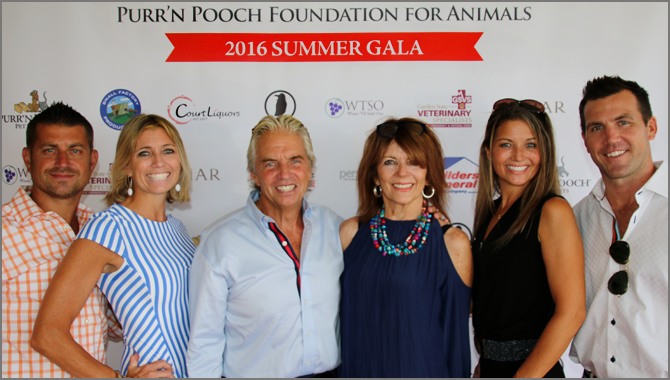 Photo Credit: Tom Zapcic L-R: Darren Spadavecchia, Koren Palazzo-Spadavecchia, Dick Palazzo, Mary Palazzo, Betsy Palazzo-Dudick, Chris Dudick
The seventh annual Purr'n Pooch Foundation for Animals Sunset Summer Gala took place on August 17, 2016 at The Channel Club in Monmouth Beach, NJ. The event drew 350 people and raised $80,000 to support the animal rescue and rehabilitation work of the Foundation's grantees.
Since 2010, Purr'n Pooch Foundation for Animals has awarded dozens of grants to non-profit animal rescue and welfare organizations since its founding, ensuring that organizations helping animals in need are getting proper funding and help from outside sources. The Foundation awards annual grants to non-profit, no-kill animal and marine mammal rescue and welfare organizations. Funds raised from the gala will help continue to support these heroic organizations.
The Sunset Summer Gala featured a night of dinner and dancing with a raw bar from The Lusty Lobster, music from The Bobby Bandiera Band, a silent auction, raffles and games. Event sponsors included  Purr'n Pooch Pet Resorts, Builders General, Red Bank Veterinary Hospital, Court Liquors, Rook Coffee, O'Brien Realty, Garden State Veterinary Specialists Pet Hospital, Muse Designworks, Marketing Rival, The Monmouth Journal, Perspirology, Happy Tails Veterinary Hospital, Bagel Masters, Delta Heating & Cooling, Family First Urgent Care, Wines 'Til Sold Out, Sedona Shepherd Sanctuary, K Shaw Construction, Komar Products, Healing Point Acupuncture, Boynton & Boynton: Insurance Professionals, Tommy's Tap & Tavern, Small Factory Productions, Neptune Market, UMT Presents, LLC, Pitti Bimi, Poor Cat Designs, Davison, Eastman & Munoz, and Cleve.
See Craig Alkin's photos >
See Tom Zapcic's photos >
The Purr'n Pooch Foundation for Animals is a volunteer-run, grant-making organization dedicated to providing financial support and educational resources to animal rescue groups and organizations across the United States. The Foundation is committed to helping passionate organizations and non-profits working for animal welfare pursue their worthy missions. Regardless of species served, the Foundation supports those deserving organizations who do so much with so little.
The Purr'n Pooch Foundation for Animals' Board of Trustees meets monthly and grants are reviewed on an on-going basis. Grantees are selected after careful review of applications and are distributed in February at the Foundation's Grantee Breakfast. Applicants will be notified by January 1st if they have been selected for a grant. Visit purrnpoochfoundation.org for more information or to apply for a grant.