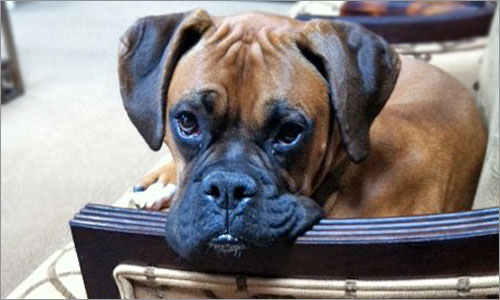 "Firm, but gentle. Demanding, but passionate. Sincere…"
If we were asked to describe Iuliana, the trainer we selected for our 11 month, work-in-progress, rescue named Harley, then these are the first thoughts that come to mind.
We were very fortunate to have a friend recommend Dick Palazzo, owner of Purr'n Pooch as a contact for someone to train our boxer "beast". After describing Harley to him, he said "I have just the right trainer for you. Her name is Iuliana". We spent our first hour at Purr'n Pooch in an upstairs training area with Harley and Iuli. We were horrified at how ill-mannered he was. Yet Iuli just stayed totally calm. She showed us how to discourage his aggressive behavior staying tranquil and rewarding him for doing well. Never once did she try to restrain him or raise her voice. We just sat there with our mouths agape. (Maybe there is hope).
Fast forward two months…he's still a work-in-progress, but is so much more obedient. Iuli comes to our house and works with him – again reinforcing the positive with encouragement and treats. As we all agree, he's very smart. He remembers commands. He keeps eye contact when training. But he's still young and headstrong. But we're sure he's going to be a very special guy.
After each session Iuli send us summary reports and further training suggestions.
We will continue to work with Iuli and strongly recommend her skills and demeanor as a trainer extraordinaire.
Ellen and Jay Garfunkle
Oceanport, NJ