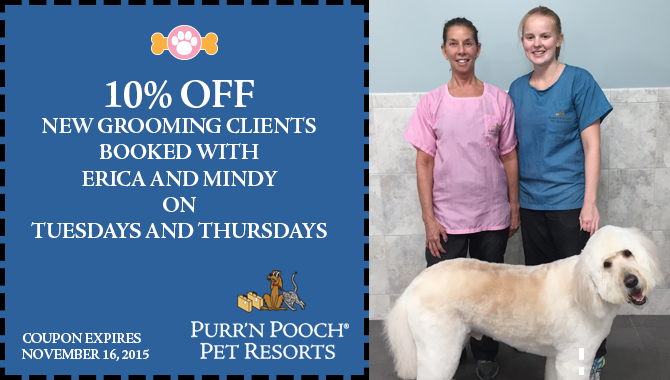 Fall is here, time to make your pooch look like a pumpkin. And we're not talking about dressing them up like a pumpkin. You can get your dog groomed and dyed to look like a pumpkin. Sound like a crazy idea? Maybe not. Creative, outside-the-box grooming styles are trending.
Pet owners are getting their pooches' fur shaved into cubes and Mohawks, accessorizing them with wings and adorable bows and dyeing them all the colors of the rainbow. Some people are even requesting groomers make their furry friends look like other species. Dogs that look like tigers, cats that look like lions —the options for unique grooming patterns are seemingly endless.
Purr'n Pooch's talented dog groomers are used to taking unique, artistic requests. And we're happy to oblige. We can also do regular spa and grooming for both cats and dogs, including everything from teeth brushing and nail clipping, to tick baths and fur trims. We offer every service to keep your pet healthy and happy, and we understand that each animal has a different personality and needs. We also know that cats require special handling in a quiet, comfortable atmosphere.
Purr'n Pooch's expert groomer, Erica Briden, recently competed in the Groom Expo, the world's largest grooming show, in Hershey, PA to show off her skills. The Expo hosts dozens of educational seminars and grooming competitions.
Erica, who works at both our Tinton Falls and Wall locations, competed in two categories. During the Salon Freestyle competition, she showed off her grooming skills by giving Purr'n Pooch regular, Riley, a haircut. Riley, a Havapoo (Havanese/Poodle mix), got a much-needed groom after growing his hair out for the competition.
Erica also competed in a very special competition; the Rescue Clip In, where dogs up for adoption were brought in for special grooming by the competitors.
"My dog was very matted and needed shaved," said Erica. "It was really rewarding to help give an in-need pup some love and care and a chance for adoption."
After the competition, the dogs that were groomed were available for adoption by the public.
"It was a lot of work, but a lot of fun," said Erica.
Grooming services at Purr'n Pooch include organic flea and tick bathing, deshedding and dandruff control, fur trims, toenail clipping, ear cleaning, hot oil treatments, and teeth brushing. Groomers take the time to make sure pets are comfy and relaxed during their entire grooming experience. Erica says what makes Purr'n Pooch so unique is the personalized service clients receive.
"We not only offer basic grooming packages, but we determine the best treatment for each animal," said Erica. "Not all animals have the same skin and some need special shampoo and treatment. We can even take special requests if an owner is allergic to a product we use."
This individualized attention makes Purr'n Pooch the place to go to pamper your pets. We also offer pet massage, which can decrease stress and anxiety, help ensure a healthy coat and skin, ease muscle tension, and increase circulation and relieve muscle spasms.
This month, our monthly spa scent is pumpkin spice. Bring your furry friend in for a gentle conditioning shampoo with aloe and sunflower oil that will leave them smelling like fall. The special also includes a spray and a teeth brushing, all for $18 plus the price of grooming or bath.
Check out all the different ways you can treat your dogs and cats like kings and queens at Purr'n Pooch with our spa and grooming services! >