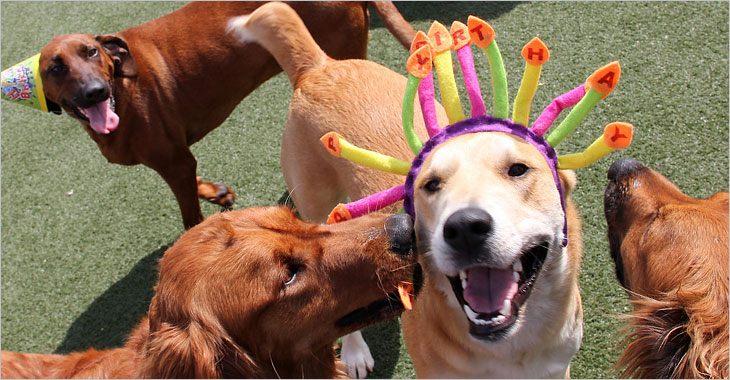 EVENTS
SEPTEMBER
SEPTEMBER BIRTHDAY PARTIES
Wednesday, September 12 ~ Tinton Falls
Thursday, September 13 ~ Wall Township
Party games and pictures will be taken on the playground. Come help us celebrate our daycare friends born in the month of September. Photos will be posted on Facebook the next day.
TRAINING CLASSES START NEXT WEEK
Our Certified Pet and Dog Trainers (CPDT) specialize in household manners, everyday commands and prepare your dog to obey instructions at home, in public and around other dogs. Our training uses a reward-based curriculum that's based on positive reinforcement. Best of all, basic dog training with Purr'n Pooch is fun because we enjoy helping your pooch learn and grow! Our classes run for six or seven weeks in our Tinton Falls Resort. Call 732-842-4949 or email info@purrnpooch.com for more information.
MIND YOUR MANNERS
Sunday, September 9 ~ 1:00 p.m.
Monday, September 10 ~ 6:00 p.m.  
AGILITY FOR FUN
Sunday, September 10 ~ 2:30 p.m.
Wednesday, September 12 ~ 6:00 p.m.
 
OUT'N ABOUT
Sunday, September 9 ~ 4:30 p.m.
Thursday, September 13 ~ 6:00 p.m.  
 
PUPPY BASIC
Tuesday, September 11 ~ 6 p.m.
PURR'N POOCH FOUNDATION FOR ANIMALS SUMMER GALA
Thank you to everyone that sponsored, attended or donated to the Foundation's Summer Gala this year. It was another successful evening raising money to help animals in need. Please like us on Facebook , follow us on Instagram and check out the website, PurrnPoochFoundation.org, to find out about our next event.