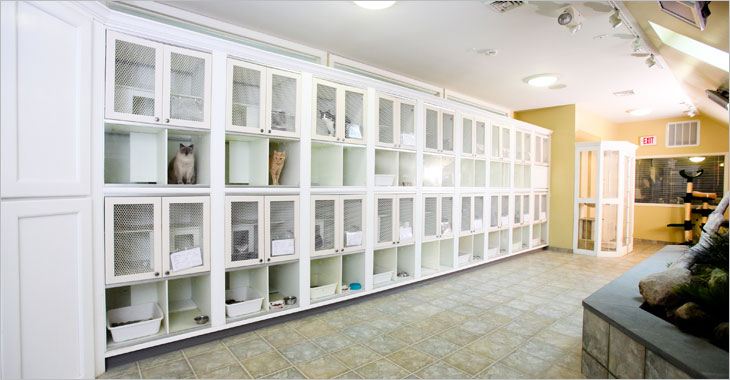 ACCOMMODATIONS & AMENITIES
Purr'n Pooch's catteries features custom-designed housing, bright light, natural rock walls and waterfalls for your cats comfort curiosity and pleasure. Our feline friends love to explore and play, while enjoying their luxury accommodations at Purr'n Pooch Pet Resorts. They can also enjoy a day of play with our cat daycare program.
Our boarding cattery boasts deluxe amenities, designed by Dick Palazzo, specifically to promote stress-free and tranquil environments:
Beautiful 1,000-square-foot catteries with private beds and 24-hour staff supervision and care.
Custom-built 22-foot indoor tranquil waterfalls for climbing and exploring.
Window sleeping perches with natural light.
Kitty playgrounds for playtime.
Luxury cat boarding with private condos, plasma TV's, day play and soothing music.
Automatic filtrated water systems available throughout the catteries.
Hand-delivered meals that meet your cat's individual dietary needs.