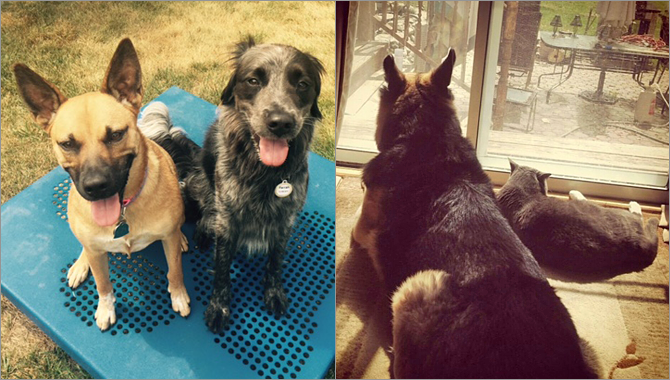 The bond between humans and their pets is strong, but the bond between animals themselves can be just as resilient. Do a quick Google search and you'll find stories of cats befriending pigs, elephants connecting with dogs, and even a tiger, a lion and a bear (Oh my!) becoming best buddies.
According to Marc Bekoff, a professor at Colorado University, animals are extremely selective in who they choose to form close bonds with. In the case of inter-species relationships, he says even the strangest of pairs can form strong, connected bonds with a large amount of trust. Animals exhibit emotions much like humans and often need someone to lean on, just like humans do.
At Purr'n Pooch Pet Resorts, many special friends enjoy relationships with each other. Owner Dick Palazzo has been caring for pets for over 45 years and is often asked if pets can form emotional attachments to one other as well as their owners.
"There is a real bond between animal and animal or animal and human," he said. "It is true love."
Here are just a few of Purr'n Pooch's friends who have formed tight bonds:
FARRAH AND LUCY
Farrah, a 2-year-old Brittany mix, and Lucy, an 18-month-old cattle dog and shepherd mix, became fast friends at Purr'n Pooch's daycare. Both pups were adopted from shelters; Farrah was rescued from a kill shelter in Alabama and Lucy was adopted through 3 Hearts 4 Paws Animal Rescue.
Both dogs are extremely active and full of energy, which may be what brought them together in the first place.
"Lucy just loves people and animals," said Liz Barrows, Lucy's mom. "She has so much energy and is so social. She runs around and tumbles with all the other dogs in daycare. She never sits still and it seems like she's always building up more energy!"
"Farrah is extremely sweet, cuddly and loves attention," said Nancy Bilow, Farrah's mom. "She has a lot of energy."
Lucy and Farrah, who is aptly named for her layered locks, are often spotted at Purr'n Pooch romping around and enjoying each other's company. And their humans are grateful the two have a place to spend the days in a safe and fun environment.
"The staff at Purr'n Pooch are so invested in each pet they care for, " said Nancy. "They like what they do and are so nice and helpful."
"Purr'n Pooch does a fantastic job of watching pet behavior and knowing exactly where to place our dogs," said Liz. "It warms my heart to know that Lucy spends her entire day with Farrah."
MAGGIE AND NINJA
Ninja, a 5-year-old cat, and Maggie, a German Shepherd, were inseparable from the start. Maggie has since passed away, but the bond between the cat and dog was strong. Sandi, a manager at Purr'n Pooch, brought Ninja home as a 7-week-old kitten, and says Maggie treated him like he was her very own baby.
"Maggie would get upset when Ninja left the house to go to the vet," said Sandi. "They were best friends."
A study of 170 pet owners with both a dog and a cat found that, despite the very popular idea that cats and dogs are genetically predisposed to dislike each other, cats and dogs not only get along, but learn to communicate with one another. The study found that more than 75 percent of the dog and cat pairs performed some sort of greeting ritual (rubbing noses, purring, etc.)
Maggie was a lover of people and kids, with some anxiety issues. Ninja is a happy-go-lucky cat, and very sweet. Their intense connection left Ninja depressed when Maggie passed away.
"It took over a week for Ninja to grieve," said Sandi.
Dr. Nicholas Dodman, one of the world's most noted and celebrated veterinary behaviorists and a board member of the Purr'n Pooch Foundation for Animals, firmly believes animals are thinking, attentive beings capable of complicated emotions, such as love and grief. Ethology, the scientific and objective study of animal behavior, is his guide of study.
Dr. Dodman believes having a basic understanding of ethology is important to pet owners and may help them understand typical behavior for their pet. Feuding cats may have territory concerns. Timid dogs may have experienced early trauma.  Understanding a pet's normal behavior helps us determine if something is wrong with them when their behavior changes.
So it's time to dispel the old myth that dogs and cats can't get along, or that our pets can't form tight bonds with other animals. While not every canine and feline will become best friends, it's not out of the ordinary for them, or other pairs of pets, to become connected.
The bonds between animal best buds are strong and the emotions that pets experience because of them are very much real. Bring your pet to Purr'n Pooch and make friends for a lifetime.
Photo above left: Lucy, left, and Farrah are best of pals at Purr'n Pooch
Photo above right: Maggie, left, and her best friend Ninja