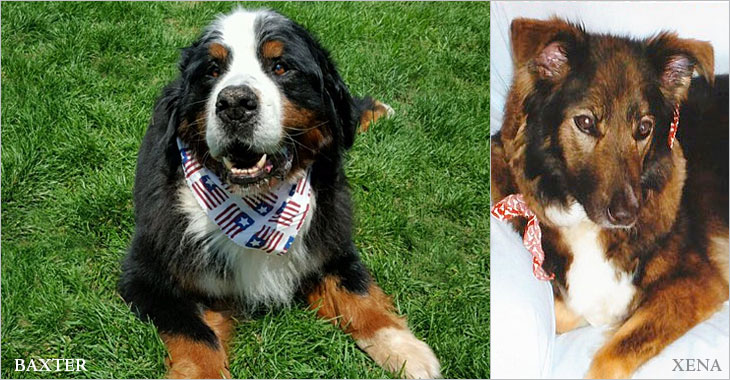 TESTIMONIALS
"Dear Purr 'N Pooch Family,
I can't begin to express my gratitude to the entire staff at Purr 'N Pooch for all the loving attention, fun and care you all provided to my dear dog Murphy for the past 13 years, as well as Bailey, whom I lost a year ago. Both of them came to you as puppies and grew up to become two wild and crazy Labs, which is what made them so wonderful and special. When I would pull up to your building they couldn't get out of the car fast enough, one trying to beat the other out first.
In your care, I have always felt they were not only safe and well provided for, but loved like they were your own. I was very fortunate that Murphy was in your care during Hurricane Sandy, as he had become quite ill. Your quick response for urgent medical care and hospitalization gave me another two and a half years with my dear pal. Whether it was for vacation, last minute emergency during a holiday or whatever life had thrown my way, knowing my guys were well cared for made life so much easier. They were my precious kids and you treated them as such.
I want to give a special thank you to Jane who helped me early Tuesday morning when Murphy was in a very bad state and couldn't move. Within fifteen minutes Liam arrived and managed to get Murphy into your van and transport him to the veterinary hospital. Liam was so kind and reassuring to both Murphy and me. I can't say enough about your professional and caring staff at Purr 'N Pooch. I will be forever grateful to you all.
Again, thank you all for your kindness and compassion at my time of loss and grief. The flowers that were sent were absolutely beautiful and so very thoughtful. You are all such wonderful and caring people who go above and beyond for our beloved family members."
With appreciation,
Margaret McGlone
"We have an almost eleven year old Bernese Mountain dog, named Baxter, that has lost the use of his back legs due to a degenerative nerve condition. Although it has become more challenging to care for him at home our family has collectively made it work. We take solace in the fact that he is not in any pain, still has his same old wonderful disposition and has learned
to adapt to his new reality as if nothing has changed. Bax has been a real trooper in the face of adversity!
Unfortunately for us, the most difficult part of dealing with the loss of use of his back legs has been finding a place that would actually board him. The place that we had used for 10 years prior told us that they were no longer willing to care for him and that we should board him at a Vet. We then called every establishment in a thirty mile radius and received the same response until we were fortunate enough to locate Purr'n Pooch.
From the first time we brought him in to Purr'n Pooch they treated Baxter as if he was part of their family. They weren't scared away by his condition and they were confident that they could provide the necessary care for him during his stay. As good as the facilities are the staff has proven to be even better. They take terrific care of him and he is beyond excited every time we pull up to the front doors and he realizes he is going in. For our family it is so comforting to know that when we do have to board him from time to time he is at a place where he is receiving the best care and attention possible."
Thank you for taking such great care of Baxter."
The Stewarts
"Fabulous staff!!! My Beau loves the place they take great care of my baby also the pet suites are excellent."
Denise Zidiakos – 5 Stars on Facebook
"First time I had to board my dogs, and was really nervous. They were amazing, and my dogs came home happy and exhausted!"
Grace Murray Zelekovic – 5 Stars on Facebook
"My dogs absolutely love it here! Very Friendly staff!"
Jonas J. Colmer – 5 Stars on Facebook
"Only place I trust with my dog! Desna loves Purr and Pooch!!!"
Dominick Lorusso – 5 Stars on Facebook
"Mel and Guthrie love daycare there! The staff are professional and great with the dogs."
John Teevan – 5 Stars on Facebook
"Christina and I wanted to take a moment to say thank you so much for the wonderful care you have extended to Zoe and Zen the past 7 years. You and your team have always taken such good care of the kids and made sure they've had a fun, exciting and safe time.  From their very first stay when Jessica fed Zoe by hand, your team has always gone above and beyond for them and us! And when our life plans were up in the air, you and your team were right there to offer any help we needed. Now that we have dropped them off for a week so we can move our family to Connecticut, we wanted to just take a moment to say thank you again for everything. You don't just provide a service, you provide a second home filled with love."
With much gratitude,
Deb and Christina (and Zoe and Zen)
"As long as my lil shih tzu "Archie Deluxe" loves going to pet camp at Purr N Pooch in Tinton Falls, it makes this fur baby's mommy happy. The staff is awesome!!!!! They are ALWAYS helpful and always smiling!"
Michele Fried – 5 Stars on Facebook
"My baby Daphne loves every day at PnP. She is a newer daycare goer but is more excited every day that she gets dropped off. She is so happy to be making friends and to be sleeping through the night after a busy day at PnP. She even comes home with arts and crafts some days! Thank you PnP for taking such great care of my baby."
Erica Leigh Goldman – 5 Stars on Facebook
"Hope my girlie Harley is having as much on her vacation as i am. I know she loves the 'pooch-pooch'."
Laurie McGraw – 5 Stars on Facebook
"Our girl Blizzard absolutely loves daycare at Purr n Pooch. She stayed over a few nights at Christmas and she was very happy. The staff is really wonderful to Blizz and to us. Keep up the fine work!"
Ed Bognacki – 5 Stars on Facebook
"Lucy loves Purr n Pooch! We don't even say it out loud because she knows the name so we call it PNP. She always happy to be there. The staff is great!"
Mary Spagnolo Massaro – 5 Stars on Facebook
"Dear Nick, a simple "thank you" just does not seem to be nearly enough to express how much I appreciate and am grateful for "all" that you have done for Kylie Ann this summer. Your water therapy sessions with her have turned out to be so much more than just physical rehabilitation from the TTA surgery she underwent this past spring. Through your extraordinary patience and compassion, you have managed to make Kylie's water therapy, not only physically worthwhile, but also a lot of "fun," which I believe has resulted in a remarkably positive and beneficial psychological experience, as well, for my girl."
"When I first came across Purr'n Pooch, I was impressed with the comprehensive and hands on approach to acclimating pets to the facility, and the (necessary) approach to dog behavior. Our puppy was very young (and still is!) when he first came to Tinton Falls, and we had also never brought our previous dog to day care. We had concerns and just crazy puppy parent worries, and none of them have come to light. We are so happy you operate the way you do! Murray couldn't be happier than when he's there, and we couldn't be more comfortable with where he is when we can't be home with him. Thank you!"
Lauren Vincelli
"When I moved here 5 years ago I was fortunate to take my dog to Purr'n Pooch and I am always recommending them to people looking for a friendly, safe, clean establishment for their pets. I can't say enough how friendly and pet oriented they are. When I get into the parking lot, my dog is already jumping at the car door to get out. That says it all!"
Diane Dilzell
"If it weren't for the Team at Purr'n Pooch  I wouldn't be able to go on vacation. Knowledgeable staff – 24 hr oversight! Thank you!"
MaryEllen Hillery
"We want to thank all of the Purr'n Pooch staff for taking such wonderful care of our dog, a 13 1/2 year old yellow lab. Due to his advanced age and needs, we were very concerned about going away for two weeks. He requires care and assistance beyond the norm. Your staff was amazing, providing a comfortable and easy environment and gave him a lot of love and attention. Your special senior care greatly put our minds at ease. We returned to find him happy and healthy. Thank you so much for all you do."
Chili's Parents
"Thank you for the note … and feed back!! Love knowing that he did well, that Cody showed him the rope!!  It seems he had a great time!! Seems you were all there for a lot of the families and pets displaced by Hurricane Sandy!! I am sure that It is greatly appreciated by all!!!  It is wonderful to see the kindest that everyone shared during that trying time!! I really do appreciate you taken them on short notice … it was a huge help for me at that time with all that was going on!!  So thank you so very much!! The family is fine, trying to get back to some normality after 2 weeks in the dark and cold, but we are blessed that is all that we were faced with. Thanks again!! You have a great weekend too!!"
 Carrie McLaughlin
"I can't even say – let's go see your doggy friends without Louie flipping out. Sometimes I think he enjoys Purr'n Pooch more than home."
Jen Woods
"Thank you so very much for your kindness and care of our cat Sammy. You really helped to put me at ease when I dropped him off. Your concern shows. Thanks again."
Lorraine Jara
"The staff at Purr'n Pooch has been essential in improving our pet's mental and physical well-being. We know that when we take Loki to daycare he is in a loving, nurturing environment where he is well looked after. It really is his second home."
The Freeman Family
"For Gretchen, then Phaddy and Windy, and now with Fuzzy and Lilly, Purr'n Pooch has been a home away from home over the past 25 years. Their tails always start wagging as soon as they jump out of the car, and it's hard to get them back into the car for the ride home. This is as much a product of the personal attention Dick Palazzo gives to every dog and cat, as it is time and effort he has put into providing a state-of-the-art facility. Most importantly, Dick clearly loves his work boarding and training animals, which is why those tails keep wagging and why we keep coming back. We cannot recommend this facility highly enough when you cannot be with your pets."
Peter and Mary Beth Lederman
"Firm, but gentle. Demanding, but passionate. Sincere…If we were asked to describe Iuliana, the trainer we selected for our 11 month, work-in-progress, rescue named Harley, then these are the first thoughts that come to mind.
We were very fortunate to have a friend recommend Dick Palazzo, owner of Purr'n Pooch as a contact for someone to train our boxer "beast". After describing Harley to him, he said "I have just the right trainer for you. Her name is Iuliana". We spent our first hour at Purr'n Pooch in an upstairs training area with Harley and Iuli. We were horrified at how ill-mannered he was. Yet Iuli just stayed totally calm. She showed us how to discourage his aggressive behavior staying tranquil and rewarding him for doing well. Never once did she try to restrain him or raise her voice. We just sat there with our mouths agape. (Maybe there is hope).
Fast forward two months…he's still a work-in-progress, but is so much more obedient. Iuli comes to our house and works with him – again reinforcing the positive with encouragement and treats. As we all agree, he's very smart. He remembers commands. He keeps eye contact when training. But he's still young and headstrong. But we're sure he's going to be a very special guy.
After each session Iuli send us summary reports and further training suggestions. We will continue to work with Iuli and strongly recommend her skills and demeanor as a trainer extraordinaire."
Ellen and Jay Garfunkle, Oceanport, NJ
"Ten years ago, we relocated to Wall, NJ from the Philadelphia Main Line area. Purr'n Pooch was recommended to us for the boarding of our Rottweiler, Nugget. For nine years, our Nugget received the finest care in boarding, grooming, and daycare from a highly qualified and caring staff. Our 10-month-old Labrador retriever, Mackenzie, is now enjoying the very same personal attention offered at Purr'n Pooch. When we travel for weeks at a time, we know our Nugget and Mackenzie are superbly cared for each day. More importantly, when Nugget and Mackenzie arrive at Purr'n Pooch, they literally rush to the door to be greeted by the loving staff to again enjoy their home away from home."
Dee and John Redden
"Our Bella Van Pelt just loves Purr'n Pooch, for both boarding and the always fun daycare!! Before Bella, there was Dutchess in the early 80s, and then Missy thru the 90s and more. We wouldn't hesitate to recommend (and have!) Purr'n Pooch to anyone. When we travel, we know our Bella is secure, safe and loved. What more can anyone ask for?"
Genie Van Pelt
"We've been taking our dogs to Purr'n Pooch for over 15 years, and in that time we have found their level of care and service to be peerless. When we have had to board for days, say over a vacation, the staff and owners have given daily reports on our dogs' health and well-being over the phone, at any hour of both night and day. Also, you won't find a more solicitous and caring staff, all of whom seem to show a level of joy and enthusiasm unmatched anywhere. We just wish our beloved dogs could run with equal passion to our own front door, as they do when we approach the doors of Purr'n Pooch with each visit."
Katie Higgins
"My dog (4-year-old, 24-pound Shih Tzu) has been going to doggy daycare 4-5 days a week for over a year, and has been boarded at Purr'n Pooch several times. He absolutely loves going there – runs right through the door every morning! – which I take to mean he's well treated and enjoys his playtime. The staff is experienced and well qualified – I know a couple have professional designations but it may be more – and are all very friendly and truly seem to enjoy the animals. (Impressively, they seem to know most of the dogs by name.) I never worry about Ozzie when he's at Purr 'N Pooch, which is high praise since he's a bit… spoiled. I have also been taking my Persian cat there for grooming since 2008, since she sometimes gets matts in her fur that I can't handle and so it's better to have her bathed and clipped with some frequency. Jenn does a terrific job with her, and my cat doesn't seem stressed when she comes home so I don't think it's a bad experience for her. Overall, a great place for pets – and their owners!"
Linda Schwabenbauer
"My two-year-old Australian Shepherd Dublin loves to go to daycare at Purr'n Pooch! As soon as we pull up he is whining and pawing at the door to go in. Everyone greets him by name and he rushes into the back as soon as I unclip his leash. He comes home exhausted and happy."
Sarah Mulhern Gross
"I definitely give PNP a 5+ star rating. I have been bringing my dogs there for about 20 years. First, my Cocker Spaniel, then my Bulldog Daisy and now my Bulldog Priscilla. They all love it. Priscilla is excited when I tell her she's going there and doesn't want to come home once she gets there. She just has the best time. The staff is wonderful. Everybody is so nice and I don't feel bad when we go away on vacation. I know that my baby is in the best place possible and that they will take care of her as if she was one of their own. I highly recommend it! I can't say enough about it."
Donna Aliff
"We first began boarding Flynn with Purr'n Pooch shortly following our arrival in NJ about 11 years ago. As a rescue, she came with some issues but the team at Purr'n Pooch never hesitated to work with us and we quickly learned that some of those issues were really our own. We'll never forget the day we arrived to pick up Flynn and she was one of the "good dogs" wandering around freely and keeping the front of house staff company behind the counter. Time has caught up with her over the past few years and she is now a (sometimes cranky) geriatric in need of extra love and attention. Because of the professionalism and dedication of the team, there is no one else we would entrust her care to in our absence – not even family."  
Sarah and Sean White


"THANK YOU FOR TAKING SUCH WONDERFUL CARE OF XENA OVER THE YEARS! I HOPE YOU ENJOY THE PHOTOS. SHE IS IN HEAVEN CHASING ALL THE BIRDS AND SQUIRRELS."
When we lost our dear friend Xena, her mom Jennifer sent us a beautiful note and pics of a quilt her mom created from bandanas Xena wore at Purr'n Pooch over the years.



"It has always been an honor to be involved in recommending you and your facilities to my clients. You have been a true gentleman and your facilities are first-class. Thank you for the present and the past."
Dr. Ray Smith DVM Long Branch Animal Hospital