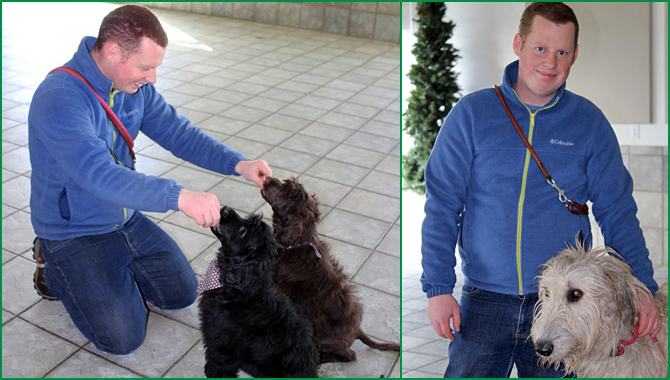 Celebrate the luck of the Irish this month with the Palazzo Family and Purr'n Pooch's certified trainer Joe Kelly. Tons of fun is in store for dogs and their owners all month long.
Classes run for six weeks; $200 + tax and are held at our Tinton Falls facility. An Easy Walk harness or Gentle Leader is given to Puppy and Mind Your Manners Class participants. Our animal behavior training uses a reward-based curriculum that's based on positive reinforcement. Best of all, basic dog training with Purr'n Pooch is fun because we enjoy helping your dog to learn and grow. Please make sure all vaccinations are up to date prior to participating in class: rabies, dhlpp and bordatella.
ST. PATRICK'S DAY FUN
Saturday, March 14 ~ 3:00 p.m.
Join us for training games and fun with your dog to celebrate the luck of the Irish!
Training Game Days: $25
CLASSES
PUPPY BASICS
Mondays ~ 6:00 p.m. – 7:00 p.m. ~ Starts March 9
Saturdays ~ 12:30 p.m. – 1:30 p.m. ~ Starts March 14
MIND YOUR MANNERS
Saturdays ~ 11:15 a.m. – 12:15 p.m. ~ Starts March 14
PERFECT MANNERS
Tuesdays ~ 6:00 p.m. – 7:00 p.m. ~ Starts March 10
Saturdays ~ 2:00 p.m. – 3:00 p.m. ~ Starts March 14
AGILITY FOR FUN
Saturdays ~ 10:00 a.m. – 11:00 a.m. ~ Starts March 14
Your Pet's Got Talent, tricks class will be starting soon! Stay tuned for details.
Contact info@purrnpooch.com to register or for more information.
ABOUT PURR'N POOCH'S TRAINER JOE KELLY
Joe Kelly is originally from Dublin, Ireland and has enjoyed the company of dogs since he was born; learning how to feed, play and work with his grandparents' hunting dogs and later, during the school vacations, with the local farm dogs in Ireland. He has studied internationally under some of the world's leading canine training and behavior experts including John Rogerson KCAI, Sarah Kalnajs
APDT/ABMA/IAABC, and Dr. Ian Dunbar PhD BVetMed MRCVS.
Joe is a certified dog trainer and behaviorist and with more than seven years experience working in canine behavior and training. He wishes to make a difference in the dog world by working hard to make lives better for both dogs and their owners. He does this by teaching in a fun and educational way, by showing owners that dogs can learn from safe and positive methods.
Joe's other interests include dog showing and agility competition, and he has handled a dog at the prestigious dog show, Crufts, in England. He has four Portuguese Water Dogs, Harvey a nine year old Irish and International Show Champion, Mimi a four year old Sport dog, Praia a two year old Irish and Junior Show Champion, and Summer a two year old Irish and Junior Show Champion.